You might think the news of the day is all wrapped around the Republican National Convention in Tampa or perhaps tropical storm Isaac battering Louisiana. While both stories certainly carry some weight, the biggest story of the day is actually a court ruling in a federal case against the state of Texas.
Court Protects The Poor – Not The Constitution
Today, August 30, 2012, the U.S. District Court in Washington, DC ruled against a Texas law that would require voters to present photo IDs to election officials before being allowed to cast ballots.
The court's three-judge panel ruled that the law imposes "strict, unforgiving burdens on the poor" and noted that racial minorities in Texas are more likely to live in poverty.
A number of states, including Texas, Georgia and Pennsylvania, have passed laws tightening identification requirements for in-person voting. The Texas law would require a government-issued photo ID, such as a driver's license, passport, or gun permit, but wouldn't allow a student ID for purposes of voting.
Does the court ruling mean that "the poor" will now be able to get on a plane without presenting a photo ID; or is it okay to discriminate against poor folks if it's a federal law?
You can't get a library card without a photo ID. You can't buy alcohol or cigarettes, vices that are all too common in the lower-income brackets, without a photo ID. You can't cash a welfare check at a bank without presenting a photo ID; in fact you'll probably remain poor because the federal government requires banks obtain a photo ID to even open a bank account. Yet the court believes something so precious to our nation, the sanctity of our election system, doesn't warrant the same level of protection required to check out Winnie the Pooh?
In the court's decision they ruled that the new voter identification law in Texas would have an unconstitutional impact on the right to vote for poor people and especially Hispanics and African-Americans.
In the aforementioned law, the state of Texas would provide a free photo ID to citizens that do not have one of the other sources. Is it possible to be too poor to afford free? Before you left-wing nuts start complaining that some poor folks don't have a way to get to the office to get their free ID, hold your hot air; there are more than 20 different charitable organizations in Texas and even some state-run agencies that will pick you up and take you to get your free ID.
Just yesterday a federal court blocked a Florida registration measure from continuing in effect.
South Carolina's strict photo ID law is on trial Monday in front of another three-judge panel in the same federal court that struck down the Texas law.
An appeal is likely in the Texas case, but there is no guarantee that the U.S. Supreme Court is going to get involved in this case, or any of these voting rights cases, before the election.
It's not been a good week for the Texas GOP that took it on the chin earlier in the week when a federal court decided that Texas' voting districts map drawn by the Republican-controlled legislature was discriminatory.
States Must Prove To Court What They Did Not Intend
The U.S. District Court in Washington wrote in a 154-page opinion that the maps don't comply with the federal Voting Rights Act because state prosecutors failed to show Texas lawmakers did not draw congressional and state Senate districts "without discriminatory purposes."
So now states must prove a negative? Is this some upside-down world where the representatives of the citizens of a state must prove to a court what they did not intend? It may be time to institute some form of randomized drug testing for federal court judges because there have been some preposterous decisions issued recently.
The Supreme Court will likely address the voting maps issue, however unless they step in on the photo ID cases liberal federal judges will continue to assert their left-wing view that anyone, whether they be legally entitled to vote or not, should be allowed to do so.
If you think that it's pure happenstance that these court rulings have all been announced the same week as the GOP convention, think again. Our federal court system has never been so politically motivated in our 236 years. In a complete reversal of the basis upon which this country was founded, the federal courts no longer serve the welfare of the citizenry, only their radical left-wing masters.
—————————————————————
Subscribe to Mr. Kaplan's articles at Examiner.com
Read Mr. Kaplan's blog at Conservatively Speaking
Email Mr. Kaplan at ken@conservativelyspeaking.us
Join Mr. Kaplan on Facebook at ConservativelySpeaking
Follow Mr. Kaplan's tweets at ConsSpeaking
Many who read this article will have never heard the name Artur Davis. Davis, a one-time Democrat congressman from Alabama's seventh congressional district will make a prime-time address at the GOP convention in Tampa, Florida and his former Congressional Black Caucus colleagues are not pleased.
Davis was an early supporter of Barack Obama's 2008 bid for the presidency, and one of the national co-chairs for Obama's 2008 campaign. Davis is well-respected for his oratorical skills and was tapped to make one of the nominating speeches for Obama at the 2008 Democratic National Convention. While serving on the House Ways and Means Committee, Davis was the first African-American member of Congress to advocate that then-Committee Chairman Charles Rangel surrender his gavel in the wake of ethics charges. In 2009 and 2010 Davis was the only member of the Congressional Black Caucus to vote against the Patient Protection and Affordable Care Act.
httpvh://youtu.be/CoWLpKfQ76k
In May 2012 Davis announced that he was leaving the Democratic Party, changing his voter registration from Alabama Democrat to Virginia Republican.
Fourteen members of the black caucus wrote to Davis to share their disapproval as he prepares to take the stage Tuesday night in Tampa.
"We are writing to express our disdain over several recent comments you have made about the important issues facing voters in November, your total distortion of President Barack Obama's record, and your complete flip-flop on certain core principles you once held dear," said the letter signed by Democratic Rep. Emmanuel Cleaver of Missouri, the caucus chairman, and other members.
Davis' decision to join the GOP was a punch in the gut for Democrats that have struggled to retain and expand their ranks in the Southern states.
A prime-time spot at the GOP convention makes a powerful statement when a former Obama supporter proclaims the failures and missed opportunities of the Obama Administration; the black caucus is worried so they've turned on their former colleague to save face.
Having Davis address the convention is a major win for the GOP that has fought, with little success, to attract African-American voters.
Speaker of the House John Boehner (R-Ohio) said the GOP believes that the Obama Administration's mismanagement of the economy could help entice minority voters to take a serious look at Republican policies.
The Congressional Black Caucus is not going to allow Davis' moment in the sun to pass without stirring controversy.
In the letter, the caucus members outlined Davis' past support for many of the Obama policies the GOP rejects, and said his shift stems from "transparent opportunism."
The letter noted that Davis once considered Obama a friend.
Davis has made clear on numerous occasions that the policies of the Democratic Party had drifted far to the left and he could no longer support the direction it had taken. Much as was the case with other moderate Democrats, Davis simply felt there was no place for his views within the Democratic Party.
Davis, the man who once believed in Barack Obama, could not in all good conscience support the president when his policies in office were so far from the moderate views he espoused in the 2008 campaign; Davis felt he had no choice but to support someone more in step with his views and joined the Romney bandwagon early this summer.
When Davis takes to the podium to proclaim his support of Romney and pro-growth policies, he won't be the first former Democrat to do so; Joe Lieberman, once a Democratic vice presidential candidate, addressed the GOP convention in 2008 in support of John McCain.
—————————————————————
Subscribe to Mr. Kaplan's articles at Examiner.com
Read Mr. Kaplan's blog at Conservatively Speaking
Email Mr. Kaplan at ken@conservativelyspeaking.us
Join Mr. Kaplan on Facebook at ConservativelySpeaking
Follow Mr. Kaplan's tweets at ConsSpeaking
The U.S. may not be bankrupt yet, but if our government keeps making idiotic "investments" it may not be long. After putting the taxpayers at the bottom of the list to recover funds from the foolhardy and politically motivated energy loan to the defunct solar cell manufacturer Solyndra, one last kick in the gut appears on the horizon as the lavish Solyndra headquarters gets ready to sell for a fraction of its original price.
Documents filed in U.S. bankruptcy court detail an arrangement for Seagate Technology, the manufacturer of storage technology products such as hard drives, to purchase the Solyndra facility for $90.3 million; thanks to taxpayer loans to the company, Solyndra built the facility for approximately $300 million.
Though the deal remains in the early stages, the Romney campaign was pleased to remind voters of the $528 million crap-shoot the Obama administration took with taxpayer dollars.
"Solyndra is the ultimate symbol of President Obama's failed attempts to pick winners and losers in the free market," Romney spokeswoman Andrea Saul said. "The Obama administration's decision to put its friends and donors ahead of taxpayers was wrong, and even the sale of Solyndra's palatial headquarters won't make things right."
The sale of the headquarters isn't likely to yield taxpayers a dime since the Obama Administration put all private investors above the taxpayers in bankruptcy court. The auction of property from the Solyndra headquarters last November barely made a dent in investor losses and given the "special" status granted to taxpayers by the Obama Administration the sale of the Solyndra building in all probability won't land a cent in the U.S. treasury.
A report released earlier this month by the House Energy and Commerce Committee concluded that "political pressure" by a White House eager to tout its stimulus spending was largely to blame for fast-tracking the loan guarantee.
According to the report "it is clear the Department of Energy should never have issued the loan guarantee to Solyndra."
The White House responded by claiming the investigation affirmed "this was a merit based decision made by the Department of Energy" as opposed to an attempt to reward political cronies.
During a congressional hearing last November, Energy Secretary Steven Chu was asked how much money taxpayers might see; Chu responded: "Well, that remains to be seen. I'm anticipating that not very much."
It seems clear the best thing that will come out of the Solyndra fiasco is that a successful and privately funded company like Seagate will get a bargain-basement price on a new building and, in turn, will hire many people to work there. Taxpayers could've been saved several hundred million dollars had the Department of Energy simply bought the building and handed the keys to Seagate in 2010.
—————————————————————
Subscribe to Mr. Kaplan's articles at Examiner.com
Read Mr. Kaplan's blog at Conservatively Speaking
Email Mr. Kaplan at ken@conservativelyspeaking.us
Join Mr. Kaplan on Facebook at ConservativelySpeaking
Follow Mr. Kaplan's tweets at ConsSpeaking
How many anti-private-equity talking points have we been subjected to since it was clear Romney was going to be GOP candidate last February? President Obama's campaign team and the Democratic Party have been pounding Romney as a private-equity executive throughout the campaign. The president's re-election political action committee has gone as far as to claim Romney was indirectly responsible for the death of a woman due to the actions of Bain Capital, even though Romney had left the company years before the woman's death.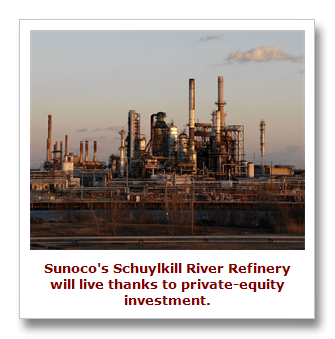 The Private-Equity Double-Standard
While all that trashing of private-equity was going on, the Obama Administration was deep in the process of wooing a private-equity firm to save a Pennsylvania oil refinery that was tabbed for closure by the current owner Sunoco.
The head of Obama's National Economic Council, Gene Sperling, led the discussions to convince the Carlyle Group, a private-equity firm, to invest in the Sunoco refinery. Sperling spoke to Carlyle executives on numerous occasions bringing in unnamed government officials and union leaders to press for Carlyle's investment.
Last month Carlyle agreed to take a two-thirds stake in the refinery plus an investment of at least $200 million in improvements. The move is estimated to save 850 union jobs in Pennsylvania.
Pennsylvania is a battleground state that Obama cannot afford to lose and have any chance of re-election. If the refinery had closed further increases in gasoline prices were near certain and the timing could not have been worse for Mr. Obama. Apparently private-equity investment is okay with the president as long as it works to his benefit.
Locking in the deal required the Obama administration loosen the environmental restrictions and Pennsylvania kicked in $25 million in state subsidies and other incentives to make the deal palatable for Carlyle.
As we close in on the 2012 election it's humorous to know that while the administration was demagoging the evils of the private-equity industry they were quietly working in the background with the evil capitalists and demonstrating precisely how and why private-equity is critical to a stable economy.
When information of the deal was revealed in the Philadelphia Inquirer it met with great fanfare but you can be sure that the Obama Administration would rather that its involvement with a private-equity firm be kept quiet to all but his union buddies until after the election.
Private-Equity is Private-Equity
Tom Corbett, the governor of Pennsylvania, hailed the deal as an example that "private-equity firms are not evil. Even though campaigns may say that, administrations understand they're necessary to get deals done." There were no other realistic buyers for the refinery, Corbett said, and if Carlyle didn't invest, a deal to save it "just wouldn't have happened."
Obama supporter and president of the United Steelworkers union, Leo Gerard said the union wouldn't have agreed to the deal if the private-equity firm Bain had been across the table. "Our experience with Bain is that they strip and flip and walk out with as much as they can while the union's experience with Carlyle is the opposite."
"During a campaign, some may distort our record for political purposes, but the truth is that revenues have grown in 80% of the more than 350 companies in which we have invested," a Bain spokesman said.
Ben LaBolt, press secretary for the Obama campaign, said, "You would have to engage in quite the verbal gymnastics to suggest there is an equivalence between the administration working to save jobs and keep gas prices down and Gov. Romney claiming he was a job creator when he profited off of bankrupting companies and outsourcing jobs."
LaBolt is in full spin-control. All private-equity firms operate in precisely the same manner; their first obligation is to their investors and they won't invest unless some protections for their investors are in place. Carlyle is no different. Then again, LaBolt, like the rest of the Obama-kins can't tie Romney to Carlyle, so that makes them "different."
In February the federal Energy Information Administration warned that if the Sunoco refinery was to close there was the potential for prices to "spike."
Administration actions have caused a much broader reduction in refinery capacity and as energy price forecasts for the summer began to look dire the White House became alarmed, according to an administration official. White House officials concluded that if the refinery closed gas prices could rise 20 cents to 30 cents a gallon.
Union-backed Pennsylvania representative Bob Brady, (D., Pa.) of Philadelphia met with Sunoco's incoming chief executive, Brian P. MacDonald back in February after the White House began to panic. Brady said the White House was concerned and asked MacDonald to consider the options "if there was broader help," according to a timeline later circulated by Carlyle, which Sunoco said was accurate. MacDonald communicated directly with the White House to discuss the "options" that were available; we now know those options were a private-equity investor
In March Sperling hosted a conference call with the MacDonald, Brady and Deputy Energy Secretary Dan Poneman.
MacDonald said gas prices of $5 a gallon in the summer were discussed as well as the possibility of Sunoco keeping a stake in the Philadelphia refinery as part of a joint venture and major assistance from another "party."
"It would have to be a very capable party," Mr. MacDonald said.
Sperling followed his discussions with MacDonald by making a call to Carlyle co-CEO David M. Rubenstein to look for private-equity investment.
While Carlyle has tried to avoid direct involvement in politics, Rubenstein did work in the Carter administration. Carlyle does not donate to political campaigns.
Carlyle paid nothing for a majority stake in the refinery, but agreed to a $200 million investment for upgrades.
Without the assistance of Carlyle this deal could not have happened. Sunoco made it clear that there had been no one interested in buying or investing in the refinery until the White House stepped in. Normally, the Carlyle-Sunoco partnership would not be worthy of more than a mention if not for the fact that the private-equity investment was engineered by the same folks that have been trashing private-equity throughout this campaign.
Had the refinery closed this summer and gas prices spiked well above where they are now, it may well have been the coup de grâce for the Obama campaign. Should the president be re-elected this fall he may well owe a debt to his two favorite whipping boys: Big Oil and private-equity. Now that's just funny.
—————————————————————
Subscribe to Mr. Kaplan's articles at Examiner.com
Read Mr. Kaplan's blog at Conservatively Speaking
Email Mr. Kaplan at ken@conservativelyspeaking.us
Join Mr. Kaplan on Facebook at ConservativelySpeaking
Follow Mr. Kaplan's tweets at ConsSpeaking
Because the U.S. government has done such a miserable job dealing with illegal aliens, a number of states have stepped in passing their own laws for dealing with the financial burden. While it might seem absurd that states have been forced to act in the absence of the federal government, what might be even more bizarre is that this same government is now blocking them from acting to address the cost of public services that are provided to the illegal alien population.
A federal appeals court has ruled it is unconstitutional for Alabama to check the immigration status of school children when they enroll, or to require illegal aliens to carry identification.
The 11 Circuit Court of Appeals did uphold provisions of the Alabama's immigration law that allows police to stop people they have a "reasonable suspicion" of being illegal aliens, and to inquire about the immigration status of motorists without drivers' licenses.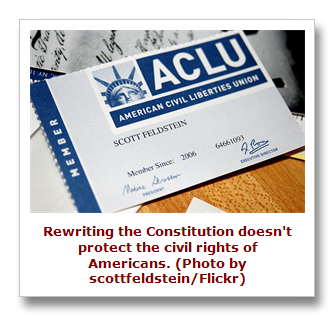 The court struck down a provision that barred residents and businesses from entering into contracts with people who are in the state illegally. In the rule the court decided that the intent of the provision, known as Section 27 of the state's tough immigration law, was "forcing undocumented individuals out of Alabama."
Just imagine, a state forcing illegal aliens out of its borders? Who would even consider such a thing? Shouldn't we be welcoming illegal aliens with open arms?
"To say that section 27 is extraordinary and unprecedented would be an understatement," the court wrote in its ruling.
Regarding immigration checks for students, the court determined that such a requirement would cause "significant interference with the children's right to education" and therefore violated the equal protection clause of the Constitution.
What a minute. Did a U.S. court just create a right for illegal aliens? Did a U.S. federal court just step in to protect rights of people that snuck into this country over the rights of our citizens?
The American Civil Liberties Union (ACLU) spearheaded the challenge to the law. Precisely what "American" civil liberties were being infringed upon? Is it the Guatemalan Civil Liberties Union? How about the Pakistani Civil Liberties Union? Maybe they're the Mexican Civil Liberties Union? Actually the Illegal Aliens Civil Liberties Union might be the best choice. Aren't they supposed to be a watchdog to protect the civil liberties of Americans?
"The court today rejected many parts of Alabama and Georgia's anti-immigrant laws, including attempts to criminalize everyday interactions with undocumented immigrants and Alabama's callous attempt to deprive some children of their constitutional right to education, " said Omar Jadwat, senior staff attorney with the ACLU Immigrants' Rights Project. "The court explicitly left the door open to further challenges against the 'show me your papers' provision, which we will continue to fight in order to protect people's constitutional rights."
The ACLU is now petitioning for constitutional rights for illegal aliens? Apparently the ACLU hasn't read the Constitution or the Bill of Rights. You aren't suddenly granted constitutional rights when you cross the border. These rights are for citizens, not those who have entered our country illegally.
There is, on the other hand, a group of rights delineated in the Bill of Rights that are not limited only to citizens of the U.S.:
In all criminal prosecutions, the accused shall enjoy the right to a speedy and public trial, by an impartial jury of the State and district wherein the crime shall have been committed, which district shall have been previously ascertained by law, and to be informed of the nature and cause of the accusation; to be confronted with the witnesses against him; to have compulsory process for obtaining witnesses in his favor, and to have the Assistance of Counsel for his defense.
The Constitution only asserts rights to U.S. citizens:
All persons born or naturalized in the United States, and subject to the jurisdiction thereof, are citizens of the United States and of the State wherein they reside. No State shall make or enforce any law which shall abridge the privileges or immunities of citizens of the United States; nor shall any State deprive any person of life, liberty, or property, without due process of law; nor deny to any person within its jurisdiction the equal protection of the laws.
There is no right to an education asserted in any of our founding documents to illegal aliens. There are no constitutional rights that are bestowed upon anyone that is not a U.S. citizen. For a panel of judges to suddenly create rights for illegal aliens is the epitome of judicial activism.
Perhaps the ACLU and the judges on the 11 Circuit Court of Appeals should sit down and read the Constitution and the Bill of Rights before littering our court system with fabricated rights.
—————————————————————
Subscribe to Mr. Kaplan's articles at Examiner.com
Read Mr. Kaplan's blog at Conservatively Speaking
Email Mr. Kaplan at ken@conservativelyspeaking.us
Join Mr. Kaplan on Facebook at ConservativelySpeaking
Follow Mr. Kaplan's tweets at ConsSpeaking
Obama's Saved Jobs
Remember President Obama's great stimulus package that "saved or created" millions of jobs? Time after time the president touted the thousands of teachers, police and firefighter jobs that had been saved by his stimulus; yet it seems that stimulus didn't save so many jobs after all.
In Obama's latest ploy to dump taxpayer dollars into the teachers unions, he has called on the Congress to release billions of dollars in funds to counter the damaging impact of teacher layoffs on America's education system.
But didn't President Obama's stimulus, nearly a trillion dollars of it, do that already?
The White House released a report today, Saturday August 18, 2012, that claims that more than 300,000 teaching positions have been lost since 2009, resulting in a 4.6% rise in the student-to-teacher ratios.
In Obama's weekly address, Obama attacked the Congress, specifically the GOP, for blocking provisions that would support states in preventing further job cuts and help them rehire out-of-work teachers.
What about others that have lost their jobs? Who is helping out the small business owners that have had to lay off millions of workers? Who is helping the unemployed workers in the coal industry collapsed by his EPA? Who is supporting the hundreds of thousands of college graduates that can't find work? It's those that don't have the political influence of the teachers unions that always get screwed.
Obama aimed squarely at Republicans for offering a budget that he claimed would further impact teacher numbers.
Obama said the financial blueprint put forward by his opponents would lead to "fewer teachers in the classroom and fewer college students with access to financial aid, all to pay for a massive new tax cut for millionaires and billionaires". Yet it is Obama's own policies that have affected the ability for college students to get financial aid. Nothing in Romney's plan or the GOP's budget lowers taxes for the so-called millionaires or billionaires; the GOP/Romney budget keeps current tax levels where they are or lowers them across-the-board while removing deductions from the wealthy to keep their rates constant; Mr. Obama knows this.
Obama: The Panderer-In-Chief
"That's backwards, that's wrong. That plan doesn't invest in our future, it undercuts our future," Obama said.
The White House is claiming that the proposed Republican budget could strip close to $3 billion from education grants, since Obama's job plan, offered a year ago, has only been passed in part.
Obama's "employment blueprint" includes provisions for some $25 billion in educational aid, but can only pay for this second stimulus by raising taxes. The president offered up a plan that he knew would have no support during tough economic times; pure pandering and nothing more.
According to the White House report, average class sizes have climbed as a result of an uptick in student-to-teacher rations from a low of 15.3 to one in 2008 to 16 to one in 2010.
"If we want America to lead in the 21st century, nothing is more important than giving everyone the best education possible – from the day they start preschool to the day they start their career," Obama said in his radio address.
Well that might make sense if the president's policies had any hope of providing these educated graduates with jobs. What good is a Ph.D in math if you have to sling burgers at a fast food joint to pay your rent?
In the weekly GOP address, Missouri Representative Vicky Hartzler pointed out that Democrats have failed to restore disaster programs for farmers suffering from the worst drought in a generation. A GOP bill to help suffering farmers died in the do-nothing Senate.
The Senate refused to address the farm aid legislation before their summer break, claiming that Republicans in the House had stripped from the bill provisions related to the extension of food stamps; apparently in Harry Reid's Senate nothing is better than something.
"A lot was riding on this bill, but the Senate – a body controlled by the president's party – left Washington for the month of August without bringing it to a vote," Hartzler said.
This report and Obama's appeal for more money are totally bogus. The only reason the president is making this an issue is to hang on to his dominance with the teachers unions. Obama is doing what he does best; pretend to care about the future of our children when in fact the only thing he cares about is a future in the White House.
—————————————————————
Subscribe to Mr. Kaplan's articles at Examiner.com
Read Mr. Kaplan's blog at Conservatively Speaking
Email Mr. Kaplan at ken@conservativelyspeaking.us
Join Mr. Kaplan on Facebook at ConservativelySpeaking
Follow Mr. Kaplan's tweets at ConsSpeaking
Do you remember the shooting in Arizona where Democrat Gabby Giffords and eighteen others were gunned down in a supermarket shopping center in 2011? Of course you do; it was all over the news. It took only a few hours after that shooting before accusations were made that the shooter was a right-wing lunatic; days later we learned that the gunman was, if anything, a lefty.
Without knowing anything about Jared Lee Loughner, the Arizona loony, the press and the Democrats accused the GOP and the Tea Party of being involved in the shooting; when that didn't pan out the media and the Liberals tried to claim the shooting was due to Sarah Palin's use of a gun sight in a campaign ad. The newspapers and the radical members of the Democratic Party would not stop the finger-pointing until the public simply got sick of it.
It took about a split-second for one liberal media outlet, ABC News, to blame the Tea Party for the movie theater shooting in Aurora, Colorado this past month; ABC was forced to retract the statement a day later.
In all these nutcase shooting instances there are two golden rules followed by the left-wing media and the Democrats: blame the GOP or the Tea Party and cover it non-stop.
Then we had something stunning that the lefties in the press and the Democrats couldn't spin: a shooting at the Washington D.C. headquarters of a conservative Christian organization; the shooting took place Wednesday, August 15, 2012.
The suspect, identified by law enforcement sources as Floyd Corkins of Herndon, Va., entered the offices of The Family Research Council and yelled at the guard about the organization's policies before shooting. Corkins was tackled and subdued by the guard whom he had just shot in the arm; Corkins was later turned over to the Washington police and FBI.
Corkins was a volunteer at the DC Center for the LGBT Community, a community center in Washington for lesbian, gay, bisexual and transgender people, where the Associated Press reported the 28-year-old often worked at the front desk.
"I was shocked to hear that someone who has volunteered with the DC Center could be the cause of such a tragic act of violence," the center's executive director, David Mariner, said in a statement. "No matter the circumstances, we condemn such violence in the strongest terms possible. We hope for a full and speedy recovery for the victim and our thoughts are with him and his family."
"The security guard here is a hero, as far as I'm concerned," said Metro Police Department Chief Cathy Lanier. "He did his job. The person never made it past the front."
Charges against Corkins are to be filed Thursday according to sources in the U.S. Attorney's office in Washington.
"We don't know enough about him or his circumstances," said James McJunkin, assistant director in charge of the FBI's Washington field office. "We are going to try to sort this all out, pull the evidence and do all the interviews we can."
Family Research Council President Tony Perkins issued a statement about the shooting on the organization's website.
"The police are investigating this incident," Perkins said. "Our first concern is with our colleague who was shot today. Our concern is for him and his family."
The Family Research Council was founded in 1983 by James Dobson. Today, Perkins heads the organization, which is vocal lobbying group for conservative Christian social issues, including opposition to abortion and gay marriage.
Perkins supported Chick-fil-A President Dan Cathy, whose company has publicly taken a position against gay marriage.
"Chick-fil-A is a Bible-based, Christian-based business who treats their employees well. They have been attacked in the past about their stand. But they refuse to budge on this matter, and I commend them for what they are doing," Perkins said.
The suspect in The Family Research Council shooting was carrying items from a Chick-fil-A restaurant according to law enforcement sources.
Many of you may be asking, why haven't we heard much about this particular shooting in the news? In fact many of you probably don't even know about the shooting. The answer is quite simple: the Democrats and the mainstream media haven't yet figured out how to spin this to blame the GOP or the Tea Party. Oh, they will; give them time. Meanwhile don't expect to hear a lot about this incident.
—————————————————————
Subscribe to Mr. Kaplan's articles at Examiner.com
Read Mr. Kaplan's blog at Conservatively Speaking
Email Mr. Kaplan at ken@conservativelyspeaking.us
Join Mr. Kaplan on Facebook at ConservativelySpeaking
Follow Mr. Kaplan's tweets at ConsSpeaking
This summer has been riddled with stories about the failing California economy. With cities filing for bankruptcy and state, county and municipal employees retirements at risk, you wouldn't expect that a department of the California state government would be hiding funds; but that's exactly what has been uncovered.
California's park system has been facing the same severe budget crisis as the rest of the state. Slashed budgets and tough decisions have meant California's parks have had to face a far more meager future than they have become accustomed; or have they?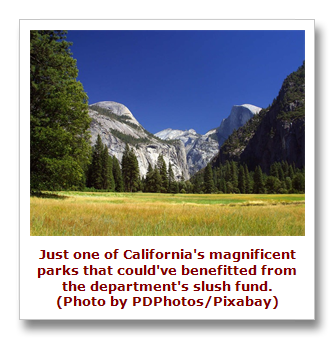 A recent audit has uncovered that the California Department of Parks and Recreation actually had something far rarer than transparency in the "Golden" state: a surplus. In fact the park system had a secret $54 million surplus that it kept hidden while begging local governments and others to assist, never revealing that they were actually flush with cash.
Now a new in-depth audit has been ordered and will begin immediately to find the extent of the deceitfulness exhibited by state park officials.
Republican Assemblywoman Beth Gaines, who led the effort to win bipartisan approval for the probe told FoxNews.com, "These parks define us as Californians and this is a victory for transparency in California state government."
California's park system's director, Ruth Coleman, resigned her position last Friday after state officials discovered the money, which had been carefully kept under cover and never reported to the state's finance department.
The California park system's second-in-command, acting Chief Deputy Director Michael Harris, was fired as well; adding to the revelations was news reporting that Harris' past was quite checkered.
California's Department of Parks and Recreation isn't unfamiliar with scandal; Just last year the California park system was faced with inquiries into their handling of taxpayer money after they announced plans to close 70 of their 278 parks due to state budget cuts. The park system was able to avoid the park closures due to donations of foundation money, help from municipalities and corporate-management agreements; imagine how the donors feel after finding that the department had a $54 million slush fund?
California GOP Assemblywoman Gaines said Monday that the $54 million has been in state coffers for as long as 12 years, and she believes the money was intentionally hidden.
Gains said, "They use sticky notes" as record-keeping.
California governor's office is remaining mum on the scandal, knowing that other state budgetary remedies, including the Governor's tax increase set to be decided by voters this November, could be at risk.
The California park system audit was revealed just days before three high-ranking officials were disciplined for their part in an unauthorized park system employee vacation-buyout program that cost state taxpayers more than $271,000.
It's hard to imagine, but with California cities going into bankruptcy and unable to fulfill its pension commitments was actually allowing more than 50 employees to trade unused vacation time for cash. Before you think the state's corruption is limited to the park system, it requires California's state human resources department to approve vacation-cash swaps. The officials involved were issued letters of letters of reprimand this past Monday.
"That's not OK, laws were broken," said Gaines, who intends to take the issue to the state's attorney general.
The audit, being led by California State Auditor Elaine Howle, is part of a larger one expected to conclude in January 2013 and reportedly will cost taxpayers $300,000.
Democrat Assemblyman Jared Huffman, representing the district of San Rafael, told The Los Angeles Time the new revelations are "a disaster" toward efforts to build partnerships and create strategies to support the state's 1.4 million acres of park. That would be an understatement. Who would want to donate money to support the park system if they knew they had created a rainy-day fund while asking for hand-outs?
Assemblywoman Gaines, whose district is about 20 miles northeast of Sacramento, said she is pleased about the audit but thinks California is still "a long way from restoring the public's trust" and that the known problems are "just the tip of the iceberg."
State municipalities believe they were hoodwinked by the parks department. The city of Whittier California put together an $80,000 package of public-private money to keep open Pio Pico State Park for roughly a year and sent the first quarterly installment of $20,000 before news broke about the hidden $54 million.
Whittier Assistant City Manager Nancy Mendez said they immediately demanded a refund but have agreed to wait 30 days in part to see whether the park system can use $20 million of the hidden money to keep parks open.
One has to assume that the actions of the California Parks and Recreation Department are not isolated. In a state that has shown a propensity for budgetary irresponsibility, the likelihood that other departments were covering their own derriere has to at least be considered. Expecting California to perform a statewide audit of all departments is not only fiscally impossible it certainly wouldn't yield the transparency that Ms. Gaines is touting.
If the United States had a functioning and honest Department of Justice, perhaps they could take on such a momentous task; however in a state run by Democrats and a Justice Department that's completely political, the citizens of California are going to need an internal revolution to find out why their tax dollars have be wasted.
—————————————————————
Subscribe to Mr. Kaplan's articles at Examiner.com
Read Mr. Kaplan's blog at Conservatively Speaking
Email Mr. Kaplan at ken@conservativelyspeaking.us
Join Mr. Kaplan on Facebook at ConservativelySpeaking
Follow Mr. Kaplan's tweets at ConsSpeaking
Pundits will tell you that the vice presidential pick doesn't affect the outcome of presidential elections because people vote for the top of the ticket; this year could well change that notion.
Mitt Romney telegraphed his choice for vice president earlier this week when he said that his choice would set the tone for national politics for the future, starting a barrage of speculation that Paul Ryan might have rocketed to Romney's VP shortlist.
The guess-work reached critical mass Friday night, on the eve of a Romney bus trip to toss-up states, when word leaked that the odds-on favorites for VP had been called to notify them they would not be chosen as Romney's running mate; at the same time the campaign announced the candidate would reveal his choice in Norfolk, Virginia, standing beside the USS Wisconsin, made Paul Ryan the clear selection.
Recent polling has shown that Romney is trailing Barack Obama, though many have argued that these polls have been biased toward Democrat voters; a confirming Fox News poll released later this week changed the Republican chatter from dismissive to concern. Could Romney's choice be a result of panic in the campaign making a bold choice, such as Paul Ryan, a necessity?
Paul Ryan may be the perfect teammate for Romney. Known as a no-nonsense leader in the House of Representatives, economic powerhouse and budget hawk, Paul Ryan provides a needed boost for Romney with his base and Independents. Looked upon favorably by both the Tea Party and Independents, both groups that have not shown much excitement over Romney's candidacy, Paul Ryan at least blunts some of the Romney indifference.
All is not hearts and roses for the GOP though. While Paul Ryan is a Conservative favorite, he's also a Democrat's perfect target. Paul Ryan, as the House Budget Committee chairman, has authored several budgets over the past few years that provide fertile ground for the Democrat's demagoguery. The Democrats have even used an actor representing Paul Ryan that wheels an elderly woman off a cliff, intimating that Paul Ryan's budgets will hurt senior citizens; expect Ryan's budgets to be a focus of Democratic attacks.
Paul Ryan doesn't bolster Mitt Romney's weak foreign policy experience, but in an election where the economy is first and foremost on every voter's mind it won't hurt him either.
Many Conservative analysts, including the author of this story, were certain that Romney would pick Rob Portman or perhaps Tim Pawlenty, so either the polls caused a major shift in the Romney campaign or Mr. Romney was playing with the pundits and the blogosphere.
The effect of the Paul Ryan choice won't be known for a few more months, but it's clear that Conservatives are pleased and the Paul Ryan's selection brings a new level of excitement to the 2012 election. The attacks upon the Wisconsin Representative have already begun and with the Obama Administration's penchant for dishonest and personal attacks one has to hope that this good and decent man and his family can weather the blitzkrieg that's coming their way.
—————————————————————
Subscribe to Mr. Kaplan's articles at Examiner.com
Read Mr. Kaplan's blog at Conservatively Speaking
Email Mr. Kaplan at ken@conservativelyspeaking.us
Join Mr. Kaplan on Facebook at ConservativelySpeaking
Follow Mr. Kaplan's tweets at ConsSpeaking
Political campaigns are never pretty. In fact by the time campaigns wind down the public has had more than they care to see or hear. Much as predicted, this campaign is getting off to a very ugly start and the entire nation is getting to experience Chicago politics first hand.
The Soptic Saga
This week we were treated to the ugliest claim ever to make its way into a political ad: Obama's PAC Priorities USA ran an ad claiming that Mitt Romney was responsible for the death of a woman. Never before has a campaign or its super PAC ever tried to finger an opponent for murder. Guess it'll be all uphill from here, because you can't get any lower than this. Or can they?
The ad featured a former Kansas City steelworker Joe Soptic tying the death of his wife to Mitt Romney's actions while at Bain Capital. The ad is riddled with inaccuracies and lies; but what may be the icing on the cake is that there is now evidence that the campaign and Priorities USA may have colluded on the ad, in direct violation of federal election laws.
The man featured in the ad, Joe Soptic, has appeared in Obama campaign videos before. In fact Mr. Soptic appeared in an Obama campaign ad about Bain wearing the same shirt in the ad posted by Priorities USA in May. Coincidence?
Mr. Soptic's wife died of lung cancer in 2006, some seven years after Romney left Bain Capital. When the plant Mr. Soptic worked for, GST, was assisted by Bain it was near bankruptcy. With Bain's assistance the company was able to stay afloat until 2001, adding nearly four years to the life of a failing company that could not survive the collapse of the U.S. steel market under overwhelming pressure from Chinese steel producers.
Stephanie Cutter, the Obama campaign's deputy campaign manager, responded to claims of the ads dishonesty by stating that she knew nothing about "the specifics of this man's case."
Twenty-four hours after Ms. Cutter's statement an Robert Gibbs stressed that the super PAC is not connected to the campaign.
"This is an ad by an entity that's not controlled by campaign. I certainly don't know the specifics of this man's case," Gibbs said on MSNBC.
Clearly the campaign knew all too well the specifics of Soptic's case and likely coordinated the production of the second ad. Even if a case is filed with the Federal Elections Committee (FEC) it would not be adjudicated until next spring, far after the fall election.
Romney spokesman Ryan Williams attacked the honesty of the ad in a written statement Tuesday.
"President Obama's allies continue to use discredited and dishonest attacks in a contemptible effort to conceal the administration's deplorable economic record. After 42 months of unemployment above 8 percent, it is clear that the president and his campaign do not have a rationale for reelection," he said.
Let's review the facts: Romney left Bain in 1999 to work on the 2002 Winter Olympics in Utah, long before the GST Steel closure. Soptic's wife died five years after GST closed. Soptic's wife had her own health insurance. Still, with the truth dribbling out not a single person in the Obama campaign, the Obama White House, nor anyone in the Democratic Party has criticized the ad.
Politics Chicago style: Where the truth is always inconvenient and the lies flow freely.
—————————————————————
Subscribe to Mr. Kaplan's articles at Examiner.com
Read Mr. Kaplan's blog at Conservatively Speaking
Email Mr. Kaplan at ken@conservativelyspeaking.us
Join Mr. Kaplan on Facebook at ConservativelySpeaking
Follow Mr. Kaplan's tweets at ConsSpeaking