GSA Corruption: The Legend Grows
on
August 2, 2012
at
2:27 am
Partying Like You Work For GSA
Unless you spent the last year on Venus, you've probably heard about the General Services Administration (GSA) 2010 Las Vegas conference scandal that kicked off investigations involving up to 77 other GSA conferences. It now appears these multi-million dollar employee conferences are only the tip of the GSA iceberg.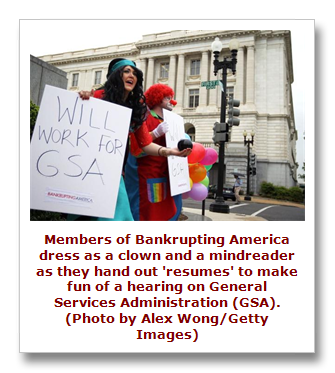 Yesterday the House Transportation Committee Chairman, John Mica, R-Fla., revealed that the GSA employees have reaped a staggering 10 percent of the entire federal government's bonus checks, totaling more than $44 million last year, when the GSA only represented one percent of the government workforce; the revelation eclipses earlier estimates exploding the scope of the investigations into the inner workings of the GSA.
Preliminary investigations have uncovered many bonuses worth $50,000 apiece, some of which have gone to employees under investigation in the GSA conference scandal. One GSA employee admitted to receiving a $79,000 bonus bringing his annual compensation to nearly $260,000, on par with the salary of the President of the United States.
The corruption continues to unravel like an onion as it was discovered that GSA also frittered away millions in overtime payments including one case where a GSA employee earned $115,000 in overtime on top of an $84,000 salary.
"There's something wrong at GSA when you have to pay an employee $115,000 in overtime," Mica said.
A spokesperson for the GSA said, "Acting Administrator Dan Tangherlini is reviewing all bonuses and the entire performance award system as part of his comprehensive, top to bottom review of all agency operations. This review has already uncovered clear deficiencies in the area of performance awards. In response, Tangherlini has cut executive bonuses and instituted a hiring freeze across the agency."
Rep. Donna Edwards, D-Md., expressed concern at Wednesday's hearing that all the troubling news was casting ordinary GSA employees in a bad light. She called on Tangherlini, who was not present Wednesday, to appear before the committee. She said lawmakers should "defend" hard-working employees at the agency, but not the "garbage" that's wasting taxpayer dollars.
Apparently Tangherlini's memo wasn't read by too many at the GSA because while the House committee was holding its hearing the GSA was having yet another conference, this time at the Opryland Convention Center in Nashville, Tenn.
The 2012 GSA SmartPay Training Conference at Opryland runs from Tuesday to Thursday this week for banks investing in the agency's so-called GSA SmartPay system and includes a broad range of officials within GSA.
Doesn't it do your heart good to know our corrupt government is entertaining the corrupt banks?
Cynthia Metzler, a Clinton Administration appointee to the Department of Labor and currently the GSA's chief administrative services officer, attempted to defend the actions of the agency saying that under new leadership, GSA has canceled 37 previously scheduled conferences and is conducting a "top-to-bottom" review and that they had discovered a "pattern of mismanagement" spanning multiple administrations and said "it must stop."
It sounds like the GSA decided to start their budget diet tomorrow. Let's just slip in one more conference before the crack-down; unfortunately that diet was supposed to have started months ago.
In a statement from GSA to Fox News the agency said, "As of April 2012 all spending for events, including training conferences, leadership events, team building exercises, award ceremonies, were suspended. The 2010 awards ceremony was an annual event and has been in existence going back to 2002. Under the new GSA leadership these events and this type of spending are not tolerated."
Except, apparently, when there's a chance to strut your stuff at Opryland.
There's surely some bureaucratic excuse why the Nashville conference is going on right now, like "the money was already allocated," or "the conference had been scheduled before the April cut-off." In any case, it would seem much of our federal government, even when caught with their fingers in the cookie jar, just can't stop themselves.
Obama Stands By While GSA Corruption is Revealed
The optics of another lavish event in the midst of an investigation are not good for the Obama Administration. It's one thing when you're blind to the corruption; it's another thing when it's splashed all over the newspapers.  Is there any question that the culture of corruption at GSA continues despite promises to the contrary?
Where's the president footprint on the backs of the administrators at GSA? While the government has rung up a near $16 trillion debt and are blowing through $1.2 trillion a year more than it brings in, you'd expect Mr. Obama would freeze all wasteful government spending, even if only to improve his re-election odds.
Logic and Liberals: a contradiction in terms.
With a single stroke of the pen the president could separate himself from the taxpayer-funded DC party scene. Democrats insist on raising the taxes of folks making over $200 thousand a year, which will only yield $5 billion a year, when that amount would be easily surpassed by simply yanking the "let the good times roll" budgets from government agencies and limit overtime to a figure in-line with commercial businesses.
Is it any wonder most people have little respect for their government?
—————————————————————
Subscribe to Mr. Kaplan's articles at Examiner.com
Read Mr. Kaplan's blog at Conservatively Speaking
Email Mr. Kaplan at ken@conservativelyspeaking.us
Join Mr. Kaplan on Facebook at ConservativelySpeaking
Follow Mr. Kaplan's tweets at ConsSpeaking
.
You can post this "GSA Corruption: The Legend Grows" image that's above on your blog/forum using following codes:
Website Code
Forum Code