You don't own your children; the community does
on
April 8, 2013
at
1:52 pm
Melissa Harris-Perry is a radical left-wing professor at Tulane University and host of her own show on the progressive waste of air known as MSNBC. This week she voiced her opinion in a video promoting MSNBC's "Lean Forward" movement, endorsing the concept that the state owns your children, not you.
Ms. Harris-Perry didn't shock those who are familiar with her radical views. She's offered her opinion on the value of children on her show before: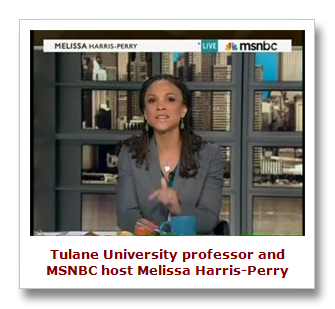 "We do that, but it`s always about private morality, right? It feels sort of like to the extent that we talk about morality in the public sphere, we talk about private morality, who you should and shouldn't sleep with, how you should or should not dispose of things in your uterus. I mean, you know, this is — this is what we think of as morality, right? But we don`t talk about public morality, what it means."
In the world of the ultra left-wing nuts like Harris-Perry, they are not your children, but the children of the community.
"We have never invested as much in public education as we should have because we've always had a private notion of children, your kid is yours and totally your responsibility. We haven't had a very collective notion of these are our children.
So part of it is we have to break through our kind of private idea that kids belong to their parents or kids belong to their families and recognize that kids belong to whole communities.
Once it's everybody's responsibility and not just the household's we start making better investments."
Ms. Harris-Perry takes the "it takes a village" concept to a whole new level; it is now a matter of who owns them, you or your village. Ms. Harris-Perry insinuating that "children do not belong to their parents, kids belong to whole communities", should infuriate every American.
It's no small matter that Ms. Harris-Perry is an educator at Tulane University and these are the kinds of people who are teaching our children; this point isn't only worrisome, it should notify the public that it's far past time to take a hard look at the kinds of folks that are polluting the minds of our children at these institutions of higher learning.
—————————————————————
Listen to Mr. Kaplan on NTN Radio Fridays at 8pm EDT
Subscribe to Mr. Kaplan's articles at Examiner.com
Read Mr. Kaplan's blog at Conservatively Speaking
Email Mr. Kaplan at ken@conservativelyspeaking.us
Follow Mr. Kaplan's tweets at ConsSpeaking
You can post this "You don't own your children; the community does" image that's above on your blog/forum using following codes:
Website Code
Forum Code