Freedom of speech is only meant for liberals
on
January 11, 2012
at
9:30 pm
Freedom of Speech has limits
What are the limits of Freedom of Speech? Your right of free expression does not extend to yelling "fire" in a crowded theater as written in the 1919 Supreme Court ruling in Schenck v. United States. Freedom of Speech doesn't allow you to give your boss a piece of your mind without fear of termination. Freedom of Speech doesn't allow you to use racial epithets or to encourage others to be violent.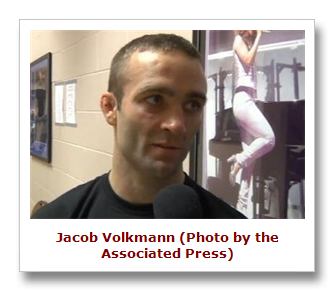 Now there's another limitation to Freedom of Speech and that's when you express your disdain for a Democratic president. December 20, 2011, lightweight Ultimate Fighting Championship (UFC) fighter Jacob Volkmann expressed his displeasure with President Barack Obama in his post-fight interview.
Volkmann told UFC commentator Joe Rogan that President Obama was in need of a "glassectomy."
Rogan asked Volkmann what that meant and he replied:
"A glassectomy is when you cut your belly button out and put a piece of glass in there so when you have your head up your butt you can see where you're going."
While the audience wasn't moved, the White Bear School District in Minnesota, where Volkmann works as an assistant wrestling coach, quickly put Volkmann on administrative leave for using his right to Freedom of Speech in a manner they found offensive.
Volkmann was interviewed by CBSLocal.com and asked why he said what he did about President Obama.
"I'm doing it for a couple reasons. To get my name out there, and I'm trying to get a message across. I don't think (President Obama) is ever going to pay attention."
In a separate post-fight interview Volkmann said he would love to get Obama inside the Octagon.:
"My beef with Obama? It seems like all his decisions, he's not really thinking them through, he's basing his decisions, it seems like, on who is paying him the most money. They're not really logical, they're not good policies. Like making a home affordable plan, the health care plan he's got, it's like, 'Where'd you come up with that? Were you even thinking when you wrote it?' I would for sure take him down and submit him. I would try to make it a very painful submission though. Try and do like a Kimura or an armbar, try and rip it."
While very few who disagree with Obama would support Volkmann's approach to criticism, doesn't Volkmann have the right to express his feelings about the president or any other public official for that matter?
Expressing your Freedom of Speech can get you attention
Volkmann was paid a visit by The Secret Service after a comment about the president in January of 2011. After that fight Volkmann told MMAFighting.com that he wanted to fight Obama inside the Octagon next due to his displeasure with the President's health policies:
"He's not too bright; someone's got to knock some sense into that idiot."
A majority of people in this country would like Obama to get some sense "knocked into him," at the polls this coming November, but Volkmann is an UFC fighter and his chosen manner of expressing his Freedom of Speech isn't likely to be the same as the average person. There's a big difference between saying you'd like to do something and saying you "would" do something: the difference between a wish and a threat.  Freedom of Speech is about expressing your feelings, not mimicking those of others.
The Secret Service found no crime in his earlier words, but now the White Bear School District has decided that Volkmann's recent choice to exercise his Freedom of Speech isn't acceptable. The school district's administration, like much of Minnesota, is dominated by liberal supporters of Barack Obama. Teachers unions are controlled by Democrats who undoubtedly called for Volkmann's immediate termination.
Freedom of Speech isn't absolute. While thousands of left-wing nut-cases displayed signs calling for the death of George W. Bush during his administration, not a single person was prosecuted or lost their jobs. Was there ever an outcry from the Democrats asserting that form of Freedom of Speech unacceptable? Of course not.
In the world of liberal politics, it's not how you choose to exercise your Freedom of Speech, but who you exercise it upon. Volkmann's tirade against Obama may not be to our liking, but only because it was targeted towards the Democrat's champion that he lost his job. Freedom of Speech is apparently a matter of perspective.
You can post this "Freedom of speech is only meant for liberals" image that's above on your blog/forum using following codes:
Website Code
Forum Code