Petraeus Scandal Continues To Grow
on
November 18, 2012
at
8:11 pm
Washington is not a place for the morally robust. Good people come to the nation's capital and whether its power, money or the glare of the spotlight, they sink to the depths of depravity. Sometimes the fall is brought about by the allure of the financial gain, but far more common is the loss of personal ethics.
Resignation of Petraeus Shocks Washington
A war hero and military whiz kid that personally changed the direction of the Iraq War, realigned efforts in Afghanistan and went on to be named the Director of the CIA, David Petraeus, resigned his position November 9, 2012 after evidence of an extramarital affair came to light.
Petraeus resignation came shortly after revelations about the Benghazi attack on 911, causing widespread speculation on the failure of the CIA and State Department to prevent and address the attack. While members of Congress try to find a link between the Benghazi and the Petraeus affair, those who've dismissed any connection are re-examining their positions after it was announced that Petraeus has retained powerful lawyer Robert Barnett of the Washington-based Williams & Connolly law firm.
Barnett is a master of crisis management representing many of the most powerful political figures including President Obama; former Presidents Bill Clinton and George W. Bush; Hillary Rodham Clinton; Sarah Palin and former Republican Vice President Dick Cheney; Petraeus now joins a very distinguished class.
Petraeus is now confronted by congressional probes, investigations from the Justice Department and the CIA; what might have started as a personally embarrassing disclosure has spun up into a major political scandal with possible criminal aspects.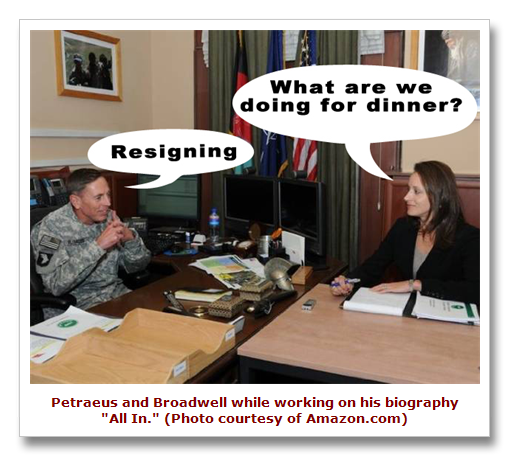 Petraeus Scandal Widens
Petraeus resigned when his affair with his personal biographer Paula Broadwell was exposed; in the intervening days further revelations have included a speech given by Broadwell that may have involved classified information and a third person, Jill Kelley, has begun to grab the media's attention.
In May 2012, Kelley complained to an FBI investigator of being sent harassing emails by an anonymous woman. The FBI investigator was discovered to be a personal acquaintance of Kelley who had sent her topless photos of himself and was forced off the case for what was termed an obsessive pursuit that caused supervisors to question the investigator's objectivity. Kelley later asked, to no avail, for the investigation to be stopped citing concerns she and her family might also come under scrutiny. The sudden change of direction set off a chain of events that eventually led to the resignation of Petraeus.
The anonymous woman of Kelley's concern was later identified as Broadwell, who FBI investigators discovered had been having an affair with Petraeus. During the course of that investigation, the FBI found that there were "thousands of emails" between Kelley and another person, General John R. Allen, Petraeus's successor as top commander in Afghanistan.
When the FBI searched Broadwell's home they reportedly found classified documents; now speculation is focusing on whether Petraeus had shared classified information with her, though no evidence of Petraeus violating security exists as of this date.
How sad that the distinguished military career of David Petraeus will be lost in the history books and future generations will only know of a CIA director that had to resign in disgrace.
—————————————————————
Subscribe to Mr. Kaplan's articles at Examiner.com
Read Mr. Kaplan's blog at Conservatively Speaking
Email Mr. Kaplan at ken@conservativelyspeaking.us
Join Mr. Kaplan on Facebook at ConservativelySpeaking
Follow Mr. Kaplan's tweets at ConsSpeaking