Ben Carson wows crowd at CPAC
on
March 16, 2013
at
1:48 pm
Several months back Dr. Ben Carson wowed the nation with his speech at the National Prayer Breakfast, openly criticizing President Obama's economic policies and political correctness. This week Dr. Carson spoke at the Conservative Political Action Conference with strong signals that he may well be eyeing a 2016 presidential run.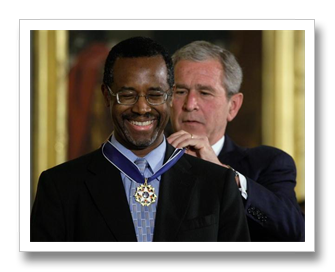 Carson's speech picked right up where he left off strongly critiquing the operation of Washington and suggesting how he might address the nation's problems.
"Let's say you magically put me in the White House," Carson, a Johns Hopkins pediatric neurosurgeon, said to a loud applause.
While the crowd responded enthusiastically, it took many by surprise. Carson has never shown any interest in politics; his approach at the prayer breakfast was his commitment to "serve God" and his critiques were directed at the unfairness of higher taxes not from a political standpoint.
While world-famous in the medical community, Carson was mostly unknown to the public until his speech at the prayer breakfast, but since he has become so popular among conservatives that his name is on the ballot for CPAC's straw poll for a 2016 presidential candidate.
Carson's said Saturday that he is retiring from surgery within roughly the next three to four months and he will focus on "educating the next generation," then "once we get that taken care of who knows."
"We continue to spend ourselves into oblivion," said Carson, adding the country's younger generations have become "uniformed" and "ignorant."
Carson said if somebody was in the White House and "wanted to destroy this nation," then "that person might create division among the people, undermine the financial stability of the country and weaken the military. Coincidentally, those are the very things that are happening right now."
Having never held political office Carson would face a daunting task if he chose to run for president; yet this is a man that has never backed-down from a challenge and it's long overdue that someone other than a politician and with a commonsense approach considers challenging the good old boys.
———————————————————————
Listen to Mr. Kaplan on NTN Radio Fridays at 8pm EDT
Subscribe to Mr. Kaplan's articles at Examiner.com
Email Mr. Kaplan at ken@conservativelyspeaking.us
Follow Mr. Kaplan's tweets at ConsSpeaking