Charlie Crist becomes a Democrat: Who Cares?
on
December 8, 2012
at
6:24 pm
Charlie Crist, the former Republican governor of Florida, is now a Democrat; does anyone really care?
Crist broadcast on Twitter Friday that he was once again switching parties, filing official paperwork at a White House Christmas party; the announcement was the least surprising news of a fairly surprising election. Crist's abandoning the GOP was a foregone conclusion after he supported President Obama in the election and spoke at the Democratic National Convention.
Republicans could care less about Crist's switch, universally thinking "you're welcome to him."
It was reported that Crist's signing of the papers was met with a fist bump by President Obama. Good luck Mr. Obama; surely Charlie Crist will do for the Democrats what he so adeptly accomplished for the Republicans.
Crist's mismanagement of the Florida economy, his inability to clearly identify what he stood for and his thrashing by Senator Marco Rubio in the Florida GOP primary made the ex-governor appear more clown-like than statesman.
More spoiled-sport than statesman, Crist didn't take the primary defeat to Rubio well, refiling to run against Rubio in the general election as an Independent. Rubio went on to shellac the governor by more than 20 points.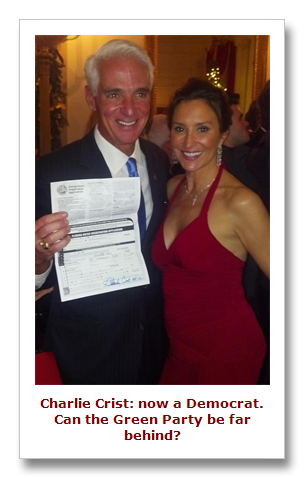 The picture Crist posted Friday night on Twitter was a picture of him holding up his voter registration form alongside his wife Carole.
The media is betting that Crist's move signals another gubernatorial run, but should he choose to do so it will require the citizens of Florida to have very short memories.
Crist has been a man without a political home for several years, sealing his fate in August by announcing his support for Mr. Obama's re-election. While Crist's bow to the president might have landed him a primetime speaking slot at the Democratic National Convention in Charlotte, N.C., it did little to lift his sagging reputation in the Sunshine State.
"What changed is the leadership of the Republican Party," Crist said in an interview Friday night. "As I said at the convention, I didn't leave the Republican Party, it left me. Whether the issue was immigration, education, or you name it, the environment. I feel at home now."
The move has been a long time coming, Crist said, recalling friends who "for years tell me, 'You know Charlie, you're a Democrat and you don't know it.'" Crist's record does tend to back up the governor's comments: Despite fighting against taxes and gun control laws, Crist backed increased pay for teachers, advocated civil rights, and supported abortion rights.
Pundits have long looked at Crist's willingness to swap views and allegiances as a sign of a man with ill-defined values; rather it appears more like a man that is willing to sample the political winds and inject whatever view seems appropriate.
A recent Florida GOP press release stating that "Charlie Crist has the ability to meld into any character, from 'Chain Gang Charlie' to sympathetic 'Man of the People,' there is seemingly no role that he can't play."
If Crist does attempt to unseat the current governor, Rick Scott, in 2014, he'll find it a daunting task. Crist isn't alone in his new peer group and he'll face the top candidate, 2010 Democratic nominee Alex Sink, who said in an interview that Crist's decision to run or not will not play a role in her decision to run.
"And if I run," Sink added, "I'm in it to win, no matter who the other comers are.
Some politicians just don't know when to quit. Crist could have taken the honor of serving as the governor of Florida and kept his nice cushy job with the Morgan and Morgan law firm; time would've faded his questionable flip-flops and vague stances on the issues. Now Charlie Crist will forever be known as the poor loser governor that could not accept that he simply didn't fit in any political party so he simply tried them all. Very sad.
—————————————————————
Subscribe to Mr. Kaplan's articles at Examiner.com
Read Mr. Kaplan's blog at Conservatively Speaking
Email Mr. Kaplan at ken@conservativelyspeaking.us
Join Mr. Kaplan on Facebook at ConservativelySpeaking
Follow Mr. Kaplan's tweets at ConsSpeaking