Chicago Teachers: Money, Benefits More Important Than Students
on
September 11, 2012
at
2:07 pm
The buddy-buddy relationship between the teachers' union and Democrats may have suffered a mortal wound this week as thousands of Chicago teachers walked off the job Monday. The third-largest U.S. school district has sent hundreds of thousands of students to wander the streets of one of the nation's most crime-ridden cities.
More than 26,000 teachers and support staff joined picket lines after the union announced they were far from resolving a contract dispute with school district officials.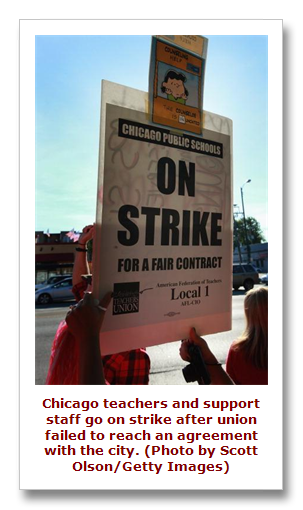 Chicago Mayor Rahm Emanuel, the president's hand-picked mayor for his home town, promised to work to end the strike while city officials were admitting that children left unsupervised, especially in neighborhoods with a history of gang violence, might be at risk; the action by the union has sent nearly 400,000 students into the streets of Chicago.
"This is not a strike I wanted," Emanuel said Sunday night, not long after the union announced the action. "It was a strike of choice … it's unnecessary, it's avoidable and it's wrong."
The Chicago school district asked community organizations to provide additional programs for students, and a number of churches, libraries and other groups plan to offer day camps and other activities.
Chicago Police Chief Garry McCarthy will now be forced to deploy additional forces to deal with teacher protests and the thousands of students who will likely be roaming the streets.
The city had offered the union a 16 percent wage increase but the Chicago Teachers Union President Karen Lewis said other issues, including possible changes to health benefits and a new teacher evaluation system based on students' standardized test scores, remained unresolved.
"This is a difficult decision and one we hoped we could have avoided," Lewis said. "We must do things differently in this city if we are to provide our students with the education they so rightfully deserve."
The union is so concerned about their students that they're willing to send them into Chicago streets because a 16 percent raise isn't enough? Who gets a 16 percent raise in this day and age? Or perhaps it was because they don't want to be evaluated based on the performance of their students? Maybe like their counterparts in Wisconsin, Chicago teachers don't want to contribute to their own health insurance?
The school board was offering a fair and responsible contract that would meet most of the union's demands after "extraordinarily difficult" talks, Chicago school board president David Vitale said. Emanuel said the district offered the teachers a 16 percent pay raise over four years, doubling an earlier offer.
Lewis said among the issues of concern was a new evaluation that she said would be unfair to teachers because it relied too heavily on students' standardized test scores and does not take into account external factors that affect performance, including poverty, violence and homelessness.
In Chicago the median salary for the population is $49,000 annually; Chicago teacher's median salary, before benefits, is $76,000.
So far the president has remained quiet as not to offend his union masters.
—————————————————————
Subscribe to Mr. Kaplan's articles at Examiner.com
Read Mr. Kaplan's blog at Conservatively Speaking
Email Mr. Kaplan at ken@conservativelyspeaking.us
Join Mr. Kaplan on Facebook at ConservativelySpeaking
Follow Mr. Kaplan's tweets at ConsSpeaking