When the State Department screws up fake heads will roll
on
December 26, 2012
at
11:18 pm
The GOP was in an uproar when four State Department officials "took one for the team" by resigning in the wake of a report about the department's failures in the September 11 terrorist attack in Benghazi; but fear not because the New York Post found out that all four remain on the State Department payroll and will be returning to work. Confused?
The resignations were flaunted by the State Department after the Accountability Review Board (ARB) released a report and among those that "fell on their sword," was Assistant Secretary of State Eric Boswell; then word slipped out that Boswell only gave up his title of "Assistant Secretary of State" he had not resigned from government service. Boswell is simply switching desks. It's an interesting play on the concept of taking responsibility when four Americans die and the penalty is a new mail stop.
Today we found out that the other three aren't giving up their jobs either, only taking administrative leave, i.e. vacation.
The department's own report spelled out "systematic" failures by the department and describing security at the Benghazi consulate offices as "grossly inadequate." Though it's hard to find a non-governmental equivalent, can you imagine any private business that would allow you to resign, take a vacation and then return to work when your performance was grossly inadequate? How low are the standards in the State Department?
US Ambassador Chris Stevens and three other Americans were killed in the Sept. 11 attack, originally blamed on a spontaneous demonstration against a US-made anti-Islam video that got out of hand. We now know that the claims of a demonstration were complete subterfuge and the government knew all along that it was a terrorist attack.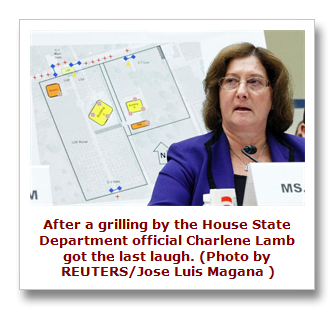 When asked about the "faux" resignations the State Department simply reissued the original statement issued last week by spokeswoman Victoria Nuland. The statement said that Secretary of State Hillary Rodham Clinton "has accepted Eric Boswell's decision to resign as assistant secretary for diplomatic security, effective immediately." The cleverly carefully crafted statement included clues to their duplicity by leaving out the fact that Boswell had only resigned his presidential appointment as assistant secretary, not his other positions.
The three other State Department officials: Deputy Assistant Secretaries Charlene Lamb, Raymond Maxwell, and a third unidentified individual, were found to have shown "performance inadequacies" but not "willful misconduct," according to ARB co-chairman Admiral Pickering, who said they would not face discipline; translation: you've been very bad, now go take a vacation and we'll see you back after the New Year.
The news of the fake resignations had House Foreign Affairs Committee Chairwoman Ileana Ros-Lehtinen (R-Fla.) furious and she told The New York Post this is "yet another ruse about the tragedy of Benghazi."
"State Department officials proclaimed . . . that heads would roll . . . Now we see that the discipline is a lie and all that has happened is the shuffling of the deck chairs."
It's good to know that when a failure in our government costs American lives fake heads will roll.
—————————————————————
Subscribe to Mr. Kaplan's articles at Examiner.com
Read Mr. Kaplan's blog at Conservatively Speaking
Email Mr. Kaplan at ken@conservativelyspeaking.us
Join Mr. Kaplan on Facebook at ConservativelySpeaking
Follow Mr. Kaplan's tweets at ConsSpeaking