Jonathan Gruber's Obamacare: Arrogance, Greed and Deceit
on
November 21, 2014
at
6:27 pm
The once renown economist Jonathan Gruber has become something of a pariah since numerous videos became public showing Gruber bragging how he and his cohorts deceived the "stupid" American people about the facts behind the 2010 Patient Protection and Affordable Care Act (Obamacare).
Chairman of the House Oversight and Reform Committee Darrell Issa sent a letter to Marilyn Tavenner, the Administrator for the Centers for Medicare and Medicaid Services asking her to testify on the "repeated transparency failures and outright deceptions surrounding ObamaCare.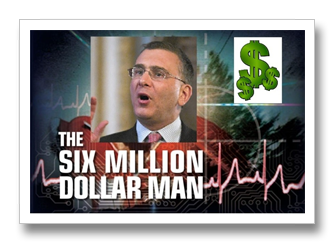 "From the outset, the health law has been the poster child for this Administration's broken transparency promises," Issa said.
"Americans," he added, "were told if they liked their plans and doctors, they could keep them. They were told the individual mandate wasn't a tax. None of these were true."
As Americans, we deserve honesty, transparency and respect from the federal government and their direct invasion into our healthcare. We should expect Jonathan Gruber and Marilyn Tavenner to publically explain how they saw fit to attempt to pull the wool over the eyes of the American public in their driver to pass Obamacare. The sheer arrogance and trickery exhibited by those paid by the citizens of this nation deserve rebuke from our legislators.
In Issa's letters to Gruber and Tavenner, Issa asked them to confirm their attendance by next Monday.
A spokesperson for CMS Administrator Tavenner said, "The Committee has asked for a response by Monday. We look forward to working with the Committee on this request." Yet when pressed, the CMS spokesperson refused to confirm Tavenner's attendance at the hearings on December 9; meanwhile Obamacare began its second year of open enrollment this past week.
Jonathan Gruber has all but disappeared from the planet, refusing hundreds of requests from the media to respond to the videos. Much like a child caught with his hand in the cookie jar Gruber is hiding under a desk somewhere and isn't likely to cooperate with the Congress unless subpoenaed. Unfortunately for Mr. Gruber, Chairman Issa has shown little reticence in issuing subpoenas and his is likely already in the works.
Jonathan Gruber's life isn't likely to improve once Issa's term as Chairman of the House Oversight and Government Committee ends this year, as incoming Chairman Jason Chaffetz (R-UT) has indicated that he is likely to hold further hearings on the issue of deceptions surrounding the passing and implementation of Obamacare.
Keep on cashing those checks Gruber as the gravy train is about to run out. One wonders if Jonathan Gruber enrolled in Obamacare, or simply took his ill-gotten gains and bought himself a Cadillac healthcare plan?