L.A. City Council endorses Meatless Mondays
on
November 13, 2012
at
1:30 am
California is an interesting place. The state's government puts in place outrageous public union pensions that it cannot possibly fund. The state raises property taxes to fund its runaway spending only to have to roll back the taxes sinking deeper into their spending pit. Taxed beyond all tolerability California citizens flee the state while the remaining agree to tax increases rather than demand the government rein in its spending.
Let's Go Meatless
Instead of dealing with a multi-billion dollar shortfall, the Los Angeles City Council has now declared every Monday to be "Meatless Monday." Sure they can't pay their bills and are driving their citizens and businesses to relocate to other states, but what better way show the strength of their leadership than to urge citizens to partake in a weekly day of vegetarianism?
No Los Angeles is not on its own, but is now the largest city to embrace the Meatless Monday campaign, a nonprofit with the goal of cutting down on meat consumption for health and environmental reasons.
Sure, one could argue that there are health benefits from reducing the intake of certain high-fat meats, but precisely what are these environmental incentives of Meatless Monday? Is going meatless some sort of "Global Warming" cow flatulence reduction program? Are the steers depleting California of their precious grasslands?
Now before you get too concerned, the Meatless Police won't be knocking at your door to seize your New York Strip or give you a meat summons. This is purely a meaningless act of politicians trying to show you just how much they care. There's probably are a few thousand restaurants in the city that wished they cared a little more for commerce than a thumbs-up from PETA and the meatless morons.
Meatless Or Brainless?
Los Angeles City Councilwoman Jan Perry, a certified left-wing nut, has been pursuing a ban on new fast-food restaurants in South Los Angeles, saying the resolution is part of an overall "good food" agenda for the city. Perhaps brainless would be more appropriate than meatless.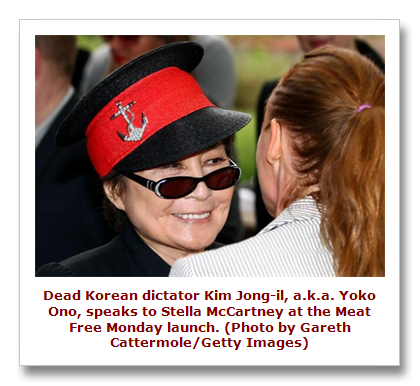 "We can reduce saturated fats and reduce the risk of heart disease by 19 percent," Perry said according to the Los Angeles Daily News. "While this is a symbolic gesture, it is asking people to think about the food choices they make. Eating less meat can reverse some of our nation's most common illnesses."
Really? It's 2012 Ms. Perry. Are you so out of touch with reality that you don't realize people are well aware of the potential risks of a high fat diet? Why not "Smokeless Mondays?" Or perhaps "Don't cross the street Mondays?" Or the greatest risk of all, "Don't get in the bathtub Mondays?"
If we wanted a nanny we'd hire one; we wouldn't elect one. But then again, in California perhaps you would.
—————————————————————
Subscribe to Mr. Kaplan's articles at Examiner.com
Read Mr. Kaplan's blog at Conservatively Speaking
Email Mr. Kaplan at ken@conservativelyspeaking.us
Join Mr. Kaplan on Facebook at ConservativelySpeaking
Follow Mr. Kaplan's tweets at ConsSpeaking