Former Mayor Ray Nagin pleads not guilty to 21 corruption charges
on
February 21, 2013
at
6:18 pm
While President Bush was being blamed for everything bad that happened in the aftermath of Hurricane Katrina, the media created a hero in the name of Democratic Mayor Ray Nagin. Yesterday the left-wing media hero pled "not guilty" to 21 counts of federal bribery, conspiracy and money laundering.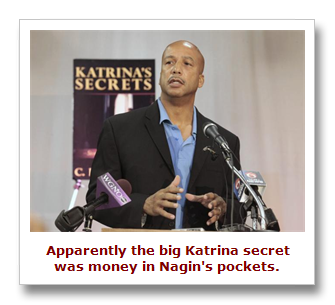 Nagin will see his hero status put to the test on April 29 when he faces the charges. While awaiting trial Nagin will remain free on $100,000 bail. The judge ordered former Mayor Nagin to surrender his passport and stay within the boundaries of Louisiana and Texas until the trial is completed.
When Katrina struck the gulf region in 2005 the mainstream media found every opportunity to blame President Bush and hail the actions of Nagin, but apparently in the days and months that followed, it is alleged, Nagin was more dedicated to reaping a personal windfall than the rebuilding of his city or aiding his constituents.
In the indictment Nagin is charged with six counts of bribery, one count of conspiracy, one count of money laundering, nine counts of deprivation of honest services through wire fraud and four counts of filing false tax returns.
In the court documents filed in the case are allegations that Nagin took bribes and accepted gifts from contractors while he was in office.
Two of Nagin's associates, Frank Fradella and Rodney Williams, pled guilty to bribing Nagin to get city contracts and will testify against Nagin when the case comes to trial.
Fradella operated Home Solutions of America, described by Securities and Exchange Commission as a hurricane restoration company based in Dallas and New Orleans.
Williams, a former president of Three Fold Consultants LLC, collected more than $3 million from New Orleans on no-bid contracts during Nagin's tenure as mayor according to court records.
Nagin served two terms as the Mayor of New Orleans, leaving office in 2010; his legacy as the mayor of the hurricane ravaged city may now become one of a man that used his constituent's hardship as a way to stuff his own pockets; one more example of the media's tendency to award accolades before doing their homework.
—————————————————————
Listen to Mr. Kaplan on NTN Radio Fridays at 3pm EST
Subscribe to Mr. Kaplan's articles at Examiner.com
Read Mr. Kaplan's blog at Conservatively Speaking
Email Mr. Kaplan at ken@conservativelyspeaking.us
Follow Mr. Kaplan's tweets at ConsSpeaking