Can Michele Bachmann become our next President?
on
June 28, 2011
at
12:59 am
Only one time in the history of our country has a member of the House of Representatives been elected President.  In 1880, James Garfield went directly from the House of Representatives to the White House; though even in this instance there an asterisk to consider.  Prior to his election as President, Garfield had been selected by the Ohio legislature to serve in the Senate.
The long anticipated announcement of Rep. Bachmann's run for the presidency was announced in her birthplace, Waterloo, Iowa.  With the first in the nation presidential caucuses being held in the Hawkeye State, being born in Iowa has some distinct advantages.  Mr. Bachmann's announcement in Iowa, and not from her home district in Minnesota was an obvious ploy to appeal to the Iowa voters, but it's hard to knock her on that point.
Bachmann, the current leader of the House Tea Party Caucus has proven to be a dynamic fund-raiser, and her Tea Party connections are likely to help in that area.  The real question is whether Bachmann can manange to achieve what's occurred once in over 200 years while also becoming the first woman President.
Bachmann has some challenges beyond her position as a member of the House and being female.  Her biggest may be that she's both a female and a Republican.  Sarah Palin could certainly attest to the media onslaught she's about to encounter.
In 2008, when Hillary Clinton made a misstep, it hardly drew notice from the main stream media.  Sarah Palin, however, was watched like a mouse scurrying through a room full of cats. Bachmann has already seen broad attention to her every move; one wrong step, or misplaced word, and she'll surely get immediate attention from the big 3 networks. The Liberal media will pounce and will make the most of every opportunity to make her look foolish; this is their modis operandi when it comes to conservative women. 
Bachmann has respectable credentials from her time as a federal tax attorney, running businesses with her husband, a mother of 5 and a foster parent for 23 children; she's well regarded in many circles, however media coverage only portrays her as a bumbling Tea Party advocate.
In 1979, Bachmann was a member of the first class of the O.W. Coburn School of Law, a part of Oral Roberts University. In 1986 she received a J.D. degree from Oral Roberts University. She was a member of the final graduating class of the law school at ORU, and was part of a group of faculty, staff, and students who moved the ORU law school library to what is now Regent University.
In 1988, Bachmann received a Master of Law degree in tax law from the William & Mary School of Law. From 1988 to 1993, she was an attorney working for the Internal Revenue Service (IRS,) but left to become a full-time mother when her fourth child was born.
Michele and her husband own a Christian counseling practice in Stillwater, Minnesota and an ownership stake in a family farm in Waumandee, Wisconsin. The farm and its buildings have been rented out to a neighboring farmer who maintains a dairy herd on the farm since the death of her father-in-law in 2009.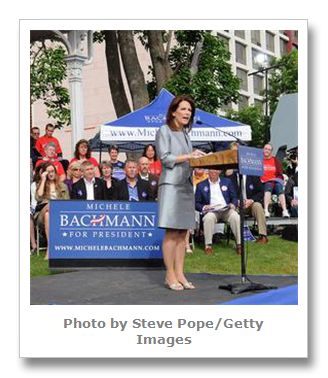 Many latter-day Conservatives find a kinship with Bachmann who was a supporter of Jimmy Carter in 1976 and she and her husband worked on his campaign. During Carter's presidency, Bachmann became disappointed with his Liberal approach to public policy, support for legalized abortion and economic decisions she held responsible for increased gas prices. In the 1980 presidential election, she voted for Ronald Reagan and worked for his campaign.
Bachmann is a very intelligent woman; however her one weakness may be foreign policy. Until 2011 Bachmann had not served on any committees or sub-committees involving foreign policy. Speaker of the House, John Boehner appointed her to the House Permanent Select Committee on Intelligence, which oversees the CIA, National Security Agency and other areas of the intelligence community.
As a politician Bachmann is fairly new to the scene. Her first political campaign was in 2000 for Minnesota State Senate where she unseated 18-year incumbent Gary Laidig for the Republican nomination for Minnesota District 56. In the general election that year she defeated Ted Thompson and Lyno Sullivan to win the seat. In November 2002, after redistricting from the 2000 Census, Bachmann defeated another incumbent, State Senator Jane Krentz in the state's 52nd district.
In 2006 Bachmann ran for the congressional seat vacated by Mark Raymond Kennedy, who ran unsuccessfully for the U.S. Senate. Bachmann won with 50% of the vote. In 2008, Bachmann won re-election in a 3-way race; however it is believed that an ineffectual third-party candidate Bob Anderson took enough votes away from her Democrat competitor El Tinklenberg to put her over the top. With the rise of the Tea Party, Bachmann found broad support and sailed to an easy victory in 2010, surpasses her closest competitor by more than 13 percentage points.
Bachmann formed and became the first leader of the congressional Tea Party Caucus in early 2011. Her Tea Party support cannot be overstated. She is the most conservative of the current 2012 hopefuls and that is the niche that she's staked out. Despite attempts to separate herself from Sarah Palin, she shares much in common with the former Governor of Alaska and can expect the media hatred towards Palin to be redirected towards her.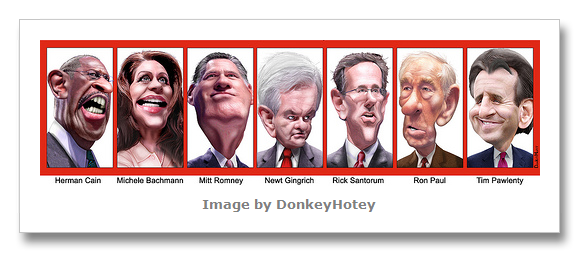 Bachmann has stunned much of the Republican Party elite at her fundraising prowess, her performance in the first New Hampshire debate and her early performance in the polls. She will be a force to contend with in Iowa, but the true tests will come in New Hampshire and South Carolina. If she's able to take Iowa, take a second or third in New Hampshire, the true test will be South Carolina. Bachmann's solid Conservative credentials have to be able to overcome Romney in South Carolina or the train may come to a fast halt. Romney has to be the overwhelming favorite in New Hampshire as the ex-Governor of Massachusetts. His often watered-down semi-conservative views are much more palatable in New Hampshire; however if he's able to defeat Bachmann in a solidly Conservative state such as South Carolina the lights dim considerably.
Should Bachmann obtain the nomination of the Republican Party, her debating skills will either become the spearhead of her campaign or its undoing. On stage with Barack Obama, who is a master at saying what the people want to hear, to sidestep issues and give nonspecific responses will demand that Bachmann be on the offensive and not let him play the game that John McCain willingly endured to his demise. Bachmann is at her best when on the offensive, however will she be able to stay vigilant when on the stage with Obama?  The next few debates will tell a great deal.  So far the early debates have seemed like an anti-Obama Republican love-in. Soon the gloves will have to come off and she'll have to prove she has the backbone to stand up to the other Republican candidates, otherwise Obama will eat her alive.  However it comes out, it should be a lot of fun to watch.