North Carolina governor becomes first to ever veto state budget
on
June 13, 2011
at
12:00 am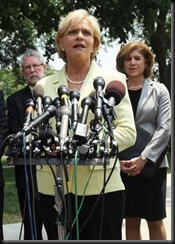 Democratic Gov. Beverly Perdue of North Carolina did something that no governor of North Carolina has ever done before: she vetoed the state's budget plan.  Perdue in a statement Sunday said the Legislature's proposal would do "generational damage" to public education and other pillars of the state. However Perdue may be unable to stop the plan because many members of her own party have already defected and a Republican majority may well vote to override.
Failing to read the tea leaves, Perdue's move is not likely to sit well with North Carolina voters that produced the first Republican majority in both the House and Senate in 140 years.  Instead Ms. Perdue has used her position as governor not to help reform the state's ailing economy, but to criticize GOP leaders.
"I will not put my name on a plan that so blatantly ignores the values that has built this great North Carolina or the values of our people," Perdue said.  "The General Assembly may be satisfied with a state in reverse, but I am not."
Perdue has spend the last few weeks traveling the state trying to scare the populace about the cuts included in the bill that she claims will devastate public education and lay off thousands of workers.  She's stated that decades of improvements, done largely under Democratic state leadership, would be lost.  Ms. Perdue is correct, it would undo much of the huge increases in state spending, growth in state government and entitlements.
"This budget results in generational damage, to tear at the very fibers that's made this state strong," Perdue said. "Not only our schools and our universities and community colleges are damaged, but also our communities, our environment, our public safety system and our ability to care for those who need us the most."  Sounds a whole lot like another Liberal "throw grandma off the cliff" moment.
If only states could print money like the federal government, governors like Perdue would ring up huge deficits and long-term debt, like those in Washington, however states must live within their means.  Even Democrats in the house felt the budget vetoed by the Governor was the best, most even-handed option they had.
Democrat defectors from the Governor don't appear swayed despite Perdue's onslaught of TV ads, mailers and town hall meetings attempting to pressure them to return to the fold. Just four have to side with Republicans in the House to override Perdue's veto. The Senate needs no defections to override the Governor.
Republican House Speaker Thom Tillis said in a statement he looked forward to an override vote soon. Though Perdue and education leaders have said the budget will eliminate at least 13,000 education jobs, Tillis said the actual number of layoffs will be a small fraction of that due to attrition and vacancies while down-sizing government and ending temporary taxes.  "She has shown no leadership on this issue and no willingness to work with the Legislature, choosing instead to veto a budget that protects education and creates jobs."
Perdue's argument is based on a temporary increase in sales tax set to expire next month.  Perdue wants to extend the tax increase, but the GOP will have no part of extending a tax increase while the state's economy suffers to support government spending.  "They know that much of the damage that this budget is going to wreak on North Carolina is quite simply unnecessary," Perdue said.
Democrats know that GOP leaders would never agree to anything short of the sales tax expiring, which means $1.1 billion in lost revenues. "The Republicans and the governor were just way, way apart," said Rep. Jim Crawford, D-Granville, the most senior legislator of the defectors and a former top budget-writer. "A lot of people don't like to admit that we came to a better conclusion in the middle, but the truth is we have a much better budget than we'd have any other way."
Perdue claims the veto wasn't about politics or power, as Senate leader Phil Berger, R-Rockingham, said in an interview. However Berger insisted if she was really concerned about the effects of the budget cuts she would have tried harder to reach a consensus with the Legislature.
"How dare he. How dare he," Perdue said. "This message has nothing whatsoever to do with power … this is about the future of North Carolina."
Sandwiched between two states that took extraordinary steps to reign in spending over the past 8 months, Virginia and South Carolina, both with Republican governors, Perdue finds herself in a very tenuous position.  If she chooses to make political points rather than address the state's budget shortfall, she will find her declining support reach new lows.  The turnover in the state's legislature is a sign that even if she doesn't get it, the electorate does.
The state's GOP is rock solid on their view that the increase in sales tax has had a devastating effect on the state's economy.  North Carolina's unemployment rate is well above the national average.  While the private economy of the state shrunk, the state's government grew; it's a story being told in state after state.  Much like the federal government, state governments must learn to live within their means and many are making the tough choices.  North Carolina's Governor needs to take a ride to Richmond, a short 3 hour drive, and take a lesson from Virginia Governor Bob McDonnell, who has maintained state services without tax increases and produced a surplus.  The public simply has no stomach for political talking points while foreclosures are at record highs, unemployment is near 10% and government spending gets more attention from international leaders than our own.
[widgets_on_pages id="Underpost"]