Obama Administration ignores security warnings in Libya
on
October 9, 2012
at
12:49 am
Staff Reductions in Libya Security Teams
Lt. Col. Andy Wood, former head of the security team in Libya told CBS News this week that in spite of multiple pleas from himself and other U.S. security officials in Libya for "more, not less" security personnel, the State Department removed as many as 34 people from Libya in the six months preceding the terrorist attack in Benghazi that took the life of four Americans, including Ambassador Chris Stevens.
Lt. Col. Wood is scheduled to testify in front of the House Oversight Committee this week as they continue investigations into security decisions prior to the Sept. 11 terrorist attack on the U.S. compound in Benghazi, Libya.
Wood said that when he found out his own 16-member team and a six-member State Department elite force were being pulled from Tripoli, Libya in August, less than a month before the terrorist attack, he felt, "like we were being asked to play the piano with two fingers. There was concern amongst the entire embassy staff."
Wood said other staffers approached him with their concerns when the reduction in security personnel was announced.
"They asked if we were safe. They asked what was going to happen, and I could only answer that what we were being told is that they're working on it – they'll get us more (security personnel), but I never saw that."
Wood said that staff in Libya, including Ambassador Stevens, State Department Regional Security Officer Eric Nordstrom, and himself, all wanted and had requested enhanced security.
"We felt we needed more, not less."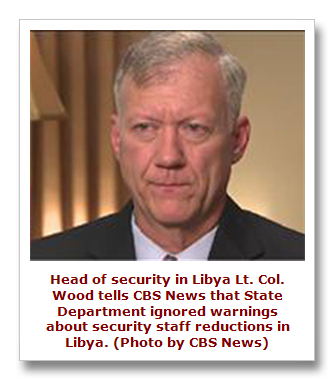 When asked what response their repeated pleas got from the State Department, Wood said they were simply told "to do with less. For what reasons, I don't know."
"We tried to illustrate… to show them how dangerous and how volatile and just unpredictable that whole environment was over there. So to decrease security in the face of that really is… it's just unbelievable," Wood said.
A State Department source responded that the security teams weren't "pulled," from Libya, that their mission was simply over; the families of four Americans would dispute that point.
The State Department responded to Wood's comments by claiming he was not part of the security assessment in Benghazi and that his assignment to Tripoli means he was unfamiliar with the local situation in the smaller port city in the country's east.
Wood says, however, that some of the members of his own team and additional personnel from the State Department's elite security detail, that left Libya in August, would have traveled to Benghazi with Ambassador Stevens had they still been in the country.
Mishandling Of Security In Libya Becomes Election Issue
Lt. Col. Wood's testimony this week is expected to highlight poor decision-making at the State Department in light of heightening tensions in Libya and intelligence that warned of potential terrorist attacks.
The matter became even more problematic for the administration after reports emerged that U.S. Ambassador to Libya Chris Stevens had written in his personal journal that he feared for his own safety.
The timing for the Obama Administration could not be worse. Hearings in the House on security in Libya are likely to reveal issues of administration competence heading right into the debate on national security.
—————————————————————
Subscribe to Mr. Kaplan's articles at Examiner.com
Read Mr. Kaplan's blog at Conservatively Speaking
Email Mr. Kaplan at ken@conservativelyspeaking.us
Join Mr. Kaplan on Facebook at ConservativelySpeaking
Follow Mr. Kaplan's tweets at ConsSpeaking