Obama and NPS stimulate Occupy protesters
on
December 13, 2011
at
5:43 pm
Did you get your Bama dollars? – Call NPS!
Many folks wonder where the president's 2009 stimulus funds were spent. With nearly a trillion dollars allocated to the stimulus package there is very little evidence of where such a lofty sum went.
Occasionally one will come across a sign at a road project that states it is funded from the stimulus bill, but they are few and far between. The president's own statement about shovel-ready not being as ready as they expected is a testament to the red tape and regulations that make few projects shovel-ready. So, where did all that money go?
Examples of the corruption in our nation's capital can be seen as congressmen and woman divvied up stimulus funds for whatever pet project they could dream up. If a bridge could use painting, but wasn't scheduled for paint for several years it magically rose to the top of the list. New road sign projects that had previously been denied were suddenly approved. If your district could use a little here or there, all you needed to do was ask and money was readily available.
National Park Service (NPS) get its stimulus
One such project was a refurbishment of a park at McPherson Square in DC. The park was never in serious disrepair and general funds had already been allocated for basic upkeep of the park, but after the stimulus package became law Fort Myer Construction Corporation was awarded $424,600 to rehabilitate the park with new grass, concrete curbs, refurbished benches, light poles, water fountains, paint, chain fencing, trash cans and light meters.
The McPherson Square Park is a serene place to take a break from the day, perhaps enjoy a little lunch in a scenic spot or for a tourist to get off their feet for a few minutes. The park is administered by National Park Service (NPS) and has strict rules against camping. So why, with rules in place against camping and nearly a half million dollars spent on rehabilitating the park, would the National Park Service break its own rules and allow Occupy protesters to set up camp in the recently stimulus-enhanced park?
Adding insult to injury, the NPS decision to allow the Occupy protesters to remain has resulted in the destruction of $400,000 of landscaping and other improvements. When it's a crime to destroy public property why would the NPS withhold evictions of the protesters? If you think something smells fishy, you're not alone.
California Rep. and chairman of the House oversight committee, Darrell Issa, has written to Interior Secretary Ken Salazar requesting a response as to why the NPS allowed taxpayer money to be wasted to accommodate Occupy protesters in violation of its own rules.
Issa said NPS' laxity toward enforcing its own rules has resulted in protesters killing "newly planted grass that had been funded by the stimulus" and "wasting much of the hundreds of thousands of dollars in taxpayer money used to rehabilitate McPherson Square. While the merits of this stimulus funding are debatable, we can all agree that once the federal government invested the funds, no government agency should have allowed it to be damaged or destroyed when it legally could have been prevented."
Issa said much of the refurbishment was "damaged or destroyed" by Salazar's department permitting "illegal camping" in the park. Issa went into great detail about NPS' definition of camping, and accused NPS of rejecting its own rules by declaring the protest a "24-hour vigil" rather than camping.
"This situation raises questions about why those decisions were made, who participated in making them, and whether political judgments played a role in not enforcing the law," Issa added.
Rehabilitation of the park was completed in Spring 2011.
Among other things, the Issa's letter requested documents of communications between the Interior Department and the White House regarding the Occupy protests as well as NPS communications about its deliberations on whether to evict the demonstrators.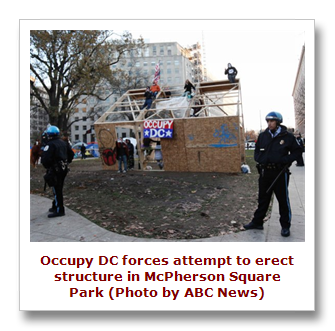 In November the NPS warned the group that it would be evicted from the park but took no action to enforce the threat. Without any support from the park service the D.C. police tried to forcibly remove protesters in early December when they tried to build a wooden structure without a permit.
Occupy protesters responded by filing a motion with a D.C. district court where Judge James Boasberg approved an injunction to allow the group to remain in the park until it receives notice from NPS 24 hours in advance that they are to vacate. Without it, U.S. District Court Judge James Boasberg said they cannot be forced to leave and scheduled motions for Jan. 31, 2012.
Why would a judge enjoin the police from enforcing a rule that has been on the books of the administrating agency? Did the judge demand the Occupiers pay for the damage to the park? Did the NPS support the D.C. police? No. Did the NPS issue notice to the Occupy forces after the judge's injunction? No. Politics? You betcha!
Thank you Mr. Salazar for allowing your politics and the NPS to waste $400,000 of taxpayer money! For starters Mr. Salazar should have to return the taxpayer's money from his $180,100 annual salary. If he returns all his 2011 salary and works for nothing in 2012 the taxpayers would get back two-thirds of what his failure to act has cost us.
Now we know what the president's stimulus package stimulated: Occupy Wall Street.
[widgets_on_pages id="Underpost"]