Portrait of true hero: Dennis Weichel
on
March 29, 2012
at
7:40 pm
Dennis Weichel was just one of the hundreds of thousands of valiant men and woman who risk all to protect America. Weichel was a nondescript young man who had served the people of Rhode Island and his fellow American's for more than 10 years as a member of the Rhode Island National Guard.
Weichel arrived in Afghanistan only a few weeks ago as a member of C Company, 1st Battalion, 143 Infantry. Seven years ago Weichel was deployed in Iraq as a member of 3/172 Det 2 Mountain Infantry.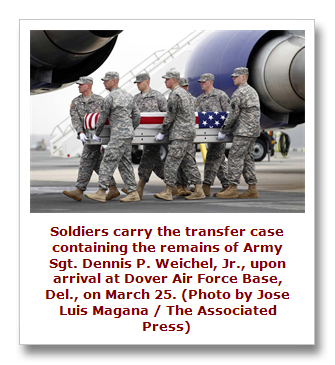 Dennis Weichel was only 29 years old when he gave his life not attacking Taliban strongholds or fending off an insurgent ambush. Weichel wasn't killed by a road-side explosive or other threat that our soldiers are taught to respond to. No, Dennis Weichel gave his life to save the life of a little girl.
The child was one of several who were collecting the casings, which can be sold and recycled in Afghanistan. Weichel and other soldiers in the convoy got out of their vehicles to shoo the kids from danger as armored vehicles moved down the road. A girl ran back into the road as a MRAP, or Mine Resistant Ambush Protected Vehicle, approached. Weichel swung the girl to safety but was run over and later died from his injuries.
"He would have done it for anybody," said Staff Sgt. Ronald Corbett, who was a mentor to Weichel and who deployed with him to Iraq in 2005. "That was the way he was. He would give you the shirt off his back if you needed it."
Weichel was posthumously awarded the Bronze Star and the NATO Service Medal Afghanistan Campaign Ribbon RI Star.
Weichel lived in Providence, Rhode Island and was engaged to be married, leaves his parents, fiancée and three young children.
"Tragically, Sgt. Weichel has made the supreme sacrifice and at this time, we are mindful of the impact of that sacrifice on his family and friends," said Maj. Gen. Kevin McBride, adjutant general of the Rhode Island National Guard, in a written statement. "We leave no Soldier behind…. and we will not leave Sgt. Weichel's family behind."
At a time when our deployed young men and woman are being assaulted in the press for the acts of one soldier we forget the thousands of selfless acts these heroes perform each day while thousands of miles away from their loved ones.
A hero is one who disregards their own safety and acts to protect the wellbeing of others. Some heroes live to receive the accolades of their fellow-man; Sgt. Weichel's heroism will live on in the child he saved.
Tonight a child of Afghanistan sleeps safely in her mother's arms while Dennis Weichel's parents mourn the loss of a man who thought first of the safety of another before considering his own; this is a true hero. Hoorah Sgt. Weichel…hoorah.