Who is Rob Portman And Why Should You Care?
on
July 31, 2012
at
4:28 pm
Outside political circles and the State of Ohio the name Rob Portman will likely get you little more than a puzzled look from most folks. The reserved lawyer from Cincinnati is best known by his Bush 41 and 43 White House counterparts as a competent and unpretentious member of the team. In much of the country, even with years under his belt in both houses of Congress and two White House administrations, Portman remains largely an enigma.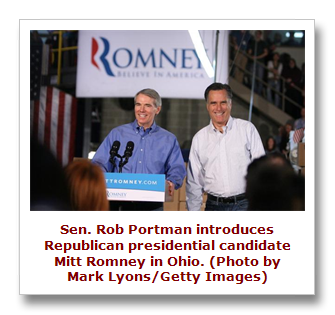 In the George H.W. Bush Administration Portman served as an associate White House Counsel and Director of the White House Office of Legislative Affairs.
Portman became a member of the U.S. House in a 1993 special election representing Ohio's second congressional district and was re-elected for three terms.
In 2005, President George W. Bush nominated Portman to be United States Trade Representative where he served until the following year when President Bush nominated him to be the Director of the Office of Management and Budget where he served until June of 2007.
Portman returned to politics in 2009 to compete for the seat vacated by Ohio Senator George Voinovich. In one of Ohio's most lop-sided victories, Portman defeated Ohio Lieutenant Governor Lee Fisher by a margin of 57 to 39 percent, taking 82 of Ohio's 88 counties.
Given Portman is an unknown to most voters, why is he getting the lion's share of bets from political pundits as Mitt Romney's choice for VP? Portman is the least likely to move voters either towards or away from Romney.
While Portman may bring a few critical Ohio votes to Romney it is unlikely to be decisive. In the areas of the state that Romney is strong he doesn't need Portman and in the industrial Northeastern urban areas of Ohio the addition of Portman would have very little effect on the outcome. Even with the Speaker of the House John Boehner representing Ohio and a Republican governor, John Kasich, Ohio will remain a toss-up state till Election Day.
Then what does Portman bring to a Romney ticket that makes him the odds-on favorite, if not the popular favorite? Nothing. That's right, he brings nothing; no baggage, no controversy and a record of competence. Rob Portman is Ohio's version of Mitt Romney; it's a vanilla shake party and that appears to be the flavor the pundits believe can beat Obama.
From a popularity standpoint Marco Rubio would top the list, but in an election where the GOP wants the focus on Obama and not Romney Portman makes for better mood lighting.
The GOP tried a splashy crowd-pleasing VP nominee in 2008 with Sarah Palin, in an attempt to rally Conservatives and offset the Plain Jane John McCain. While Palin stirred the base many believe she might have cost McCain votes from Independents.
Another benefit of Portman is that his choice portrays confidence on Romney's part. Choosing any of the more popular albeit controversial names would represent a swing for the bleachers and distract focus away from the president's record: the last thing the GOP and Romney will allow to happen.
Romney could surprise us all with a choice out of left field, but the odds are slim given the tightness of the election. The Romney message is clear: portray confidence and competence in a time of turmoil; end the Obama experiment and return sanity to the White House. While Portman probably doesn't do much to add to the Romney message, he also won't inject any drama or provide fodder for the Obama campaign.
—————————————————————
Subscribe to Mr. Kaplan's articles at Examiner.com
Read Mr. Kaplan's blog at Conservatively Speaking
Email Mr. Kaplan at ken@conservativelyspeaking.us
Join Mr. Kaplan on Facebook at ConservativelySpeaking
Follow Mr. Kaplan's tweets at ConsSpeaking