Romney blinded by fear of Gingrich
on
February 16, 2012
at
5:43 pm
Santorum benefits from Romney confusion
Mitt Romney is acting rather strange these days. While Rick Santorum appears to be his greatest threat, certainly in Michigan, Romney is running ads against Newt Gingrich. Whether this is a backhanded endorsement for Mr. Gingrich or Romney expressing in dollars his fear of a Gingrich resurgence is hard to determine. Surely Romney can read the tea leaves after Santorum's sweep of the last three GOP caucuses, so targeting Gingrich seems rather odd.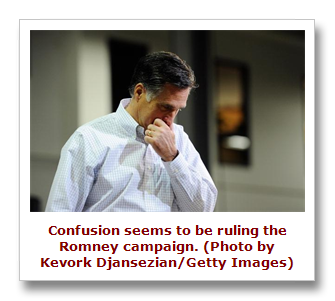 Today it was announced that Romney and Paul had withdrawn from the CNN debate in Georgia scheduled to occur March 1st, just days before "Super Tuesday" March 6th where contests in Alaska, Georgia, Idaho, Massachusetts, North Dakota, Ohio, Oklahoma, Tennessee, Vermont and Virginia will award a significant number of delegates. Perhaps Romney and Paul were ceding Georgia to Mr. Gingrich and were afraid that taking the stage with Newt would bolster the ex-Speakers chances in the other nine states voting the following Tuesday, but it smells a lot like fear from the GOP frontrunner.
CNN promptly cancelled the debate citing their privilege to do so should a major candidate withdraw. Surely had Mr. Paul pulled out of the debate it would have continued, so it's fair to say that CNN's decision was based solely on Romney's withdrawal. Clearly Romney's action was intended to prevent Newt from having air-time, but it sends an even stronger message: Despite a new debate coach, the ex-Governor of Massachusetts fears the debate stage with a seasoned debater like Newt. What does this mean for the man who may face Barack Obama an experienced and effective debater?
While Romney hides from Gingrich he's handing votes to Rick Santorum. The ex-Senator from Pennsylvania has become the chief antagonist to the Governor and recent polls have shown that Santorum has either overtaken or dramatically narrowed Romney's lead in a number of states. At this point Romney needs a Gingrich resurgence to tamp down Mr. Santorum. If Santorum's surge continues and he becomes the clear Conservative alternative to Romney, the Governor's future becomes greatly clouded.
Perhaps Mr. Romney was hoping to leave the stage to Santorum, Gingrich and Paul, projecting a bloodbath as they flung barbs at each other, but his withdrawal is likely to benefit Santorum at his own peril. Gingrich will win Georgia, that's not in question and Santorum and Gingrich aren't even on the Virginia ballot, but the real prize on Super Tuesday is Ohio; not by delegate count as Georgia has 10 more delegates, but the psychological importance of Ohio. With Santorum's home proximity to Ohio in Western Pennsylvania Romney could be looking at a very ugly March 6th.
Romney's once clear path becomes fuzzy
There are a few milestones on the near-term calendar for Mr. Romney: the Arizona and Michigan primaries on February 28th and the Washington Caucus on March 3rd. Arizona is a bit of a toss-up, though current polling shows Santorum far behind. The surprise is that the Real Clear Politics average of recent polls shows Santorum beating Romney in his home state by more than 8 points. Should Romney lose Michigan, a state he won handily in 2008, doubts will spread across the country as to whether Romney could withstand the Obama onslaught. The Washington Caucus is a prime target of Mr. Paul and a victory by Ron Paul does nothing to help Romney's case.
Early attacks by GOP hopefuls against each other seem to be losing their effectiveness and Romney's propensity to go after Mr. Gingrich is helping Rick Santorum. All four GOP presidential hopefuls are missing opportunities to hone their arguments against Obama as they waste their energy attacking each other and Mr. Romney with the deepest pockets seems to be leading the way by squandering opportunities the president has served up in recent weeks.
Whether Mr. Romney is getting bad advice from his campaign team or he's so terrified of Mr. Gingrich that he's oblivious to Santorum's flanking maneuver, he better wake up in the next few days or 2012 is going to look at lot like 2008. The next 30 days should be both entertaining and educational.