Walker recall to move forward
on
January 17, 2012
at
7:02 pm
Union and Democrats Pull Out All Stops Against Scott Walker
How would you feel if people came from outside your state to demand that someone you voted for be recalled? Do you think that money should come into your state to overturn a valid election? Do you believe that national unions should be able to flood your state with money to force the recall of duly elected officials whose views don't correspond with theirs? This is what has just occurred in Wisconsin.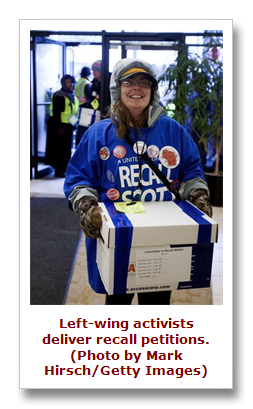 Today in Madison, Wisconsin national union members lined up outside the statehouse to deliver nearly twice the number of required signatures to force a new election in Wisconsin. The signatures petition for the recall of Gov. Scott Walker, who won an overwhelming victory last year. The recall effort is driven by union leadership that is upset over changes the Walker administration imposed calling for union members to pay a portion of their healthcare and retirement premiums. Walker and the Republican-controlled legislation passed rules that Walker ran on in the 2010 campaign.
Though there are more than enough signatures to force a new election, Walker's opponents will now have to transform union outrage into actual votes to oust him from office. Walker is showing no signs that he's worried; as the petitions were delivered to election officials Walker was out of Wisconsin raising money to defend himself and the agenda that has made him a national conservative hero.
The union dominated United Wisconsin, a coalition of left-wing national Democratic Party operatives and unions, funded and coordinated the petition efforts and exceeded the required 540,208 signatures. United Wisconsin also submitted approximately 305,000 signatures to trigger a recall election against Lt. Gov. Rebecca Kleefisch, as well as four Republican state senators, including Majority Leader Scott Fitzgerald.
With more than a million signatures gathered, any effort to challenge the petitions is likely futile and it's probable Walker will move forward with defending his agenda rather than fighting the petitions. Approximately 46 percent of the petitions would need to be successfully challenged to stop the recall election moving forward.
Walker and GOP Won't Go Down Without A Fight
Governor Walker has repeatedly stated that he is confident that he would survive any recall efforts as a majority of Wisconsin voters chose to elect him to deal with the $3.6 billion budget shortfall without laying off state employees or raising taxes, which he has done. The argument for recalling a governor for doing what he was elected to do is much harder than gathering signatures using millions of dollars provided by out-of-state political organizations.
Wisconsin Republican Party Chairman Brad Courtney issued a statement denouncing what he called a baseless and expensive recall. The election is expected to cost Wisconsin voters at least $9 million.
"Regardless of what the radical left may believe, Wisconsin families will continue to stand with Gov. Walker," Courtney said.
It's not expected that a Walker recall election will happen before this May, though many, including Walker, have said it most likely will be in June.
The state has been frittering away millions of dollars to handle the slew of recalls unions have driven since the political clamor of 2011. Battle lines were drawn first with massive protests which grew into Democrat Party and union organized campaigns to recall state senators and then Walker himself. Last summer six Republican state senators and three Democrats faced recall elections. Only two of the Republicans facing recall lost allowing the GOP to maintain its majority in the Senate.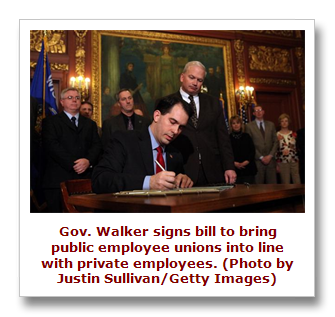 Recall actions against Walker couldn't begin until the governor had complete one year in office; that date was passed earlier this month, but in the ensuing months Walker hasn't been sitting around waiting for the outcome. Walker has run television ads since the day the recall petitions were released and has been on the air since defending his decisions to balance the budget and put the state is in a better financial position. Walker will not go quietly and the coming election will test the union and Democratic Party's strength against Walker and the GOP.
Walker has been very successful in raising funds to fight the efforts due in no small part to the national attention he's received because of the debate on the unsustainable costs and economic hardship caused by overly generous public employee union benefits.
Unfortunately for the unions, their recall effort has allowed Walker to avail himself of a quirk in Wisconsin law that allows those targeted for recall to exceed normal contribution limits until an election date is set. As of the middle of December Walker had raised more than $5.1 million.
Meanwhile Democrats have found no candidate to hitch their wagon to and with limited time remaining they'll not be able to raise enough money to match Walker. Democrats are putting all their chips in on the assumption that the efforts of the unions will translate into votes. The likelihood of Walker losing becomes slimmer when the state's two most prominent Democratic contenders, U.S. Sen. Russ Feingold and retiring U.S. Sen. Herb Kohl, have said they will not challenge Walker. Milwaukee Mayor Tom Barrett, who lost to Walker by 6 percentage points in the 2010 election, has not indicated whether he would enter the race.
Recalls of governors are an extremely rare event. In recent years only California Gov. Gray Davis has failed to survive a recall. Prior to Davis' recall the only other successful recall of a governor in the nation's history was North Dakota Gov. Lynn Frazier in 1921.
Note to Wisconsin union members: expect your dues to go up significantly. Are you happy with how your union is spending your money?