State Department whistle-blower intimidation
on
June 20, 2013
at
6:01 pm
President Obama does not like leaks and he doesn't like scandals either given the recent epidemic. We should not be shocked either that the Obama Administration is once again using "Chicago tactics" to suppress whistle-blowers. Transparency's latest victim: Aurelia Fedenisn.
Accuracy in Media recently reported, Ms. Fedenisn, a former investigator with the State Department's internal watchdog agency, revealed that high-level State Department employees attempted to cover up eight inquiries into alleged illegal behavior by its employees, including an ambassador who has been accused of pedophilia and picking up prostitutes. The investigations included allegations of sexual assault and drug purchases. These revelations may well have a negative impact on Hillary Clinton's presidential chances given that she's already been hurt by the Benghazi scandal, according to a Bloomberg News poll.
Precisely what happens when you threaten the reputation of the Obama Administration and its subordinates? Strong-arm tactics and personal attacks are the first steps in intimidating whistle-blowers. Remember, this is the State Department that made it impossible to grant security clearances to attorneys who were representing Benghazi whistleblowers when they went before Congress. Former U.S. Attorney Joe DiGenova said that the State Department is denying clearances to attorneys who want to represent Benghazi whistleblowers, even though one of the attorneys already had a current Top Secret security clearance.
"At least four State Department and CIA employees are being intimidated and blocked from cooperating with a congressional investigation into the deadly terror attack on the U.S. diplomatic mission in Benghazi, Libya, last year, according to an attorney for one of the officials," reported CNN.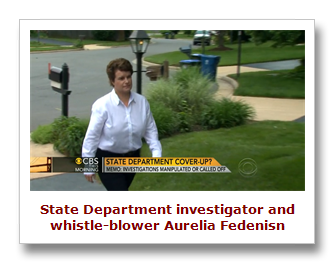 "The officials consider themselves whistle-blowers and feel threatened with career damage if they decide to give testimony to Congress," according to Victoria Toensing, an attorney for one of the State Department officials.
Given how the Administration has pursued national security leaks threats are par for the course. These are the folks that are willing to use the Department of Justice (DOJ) to subpoena months of Associated Press call records in response to a leak, and name James Rosen, a Fox News reporter, as a "co-conspirator" and a "flight risk" for reporting classified information about North Korea. The DOJ even went to three different judges until it found one willing to give them the search warrant without requiring that they notify Rosen about it.
So there should be no surprise that Fedenisn is being treated like a criminal by the State Department after revealing its misdeeds under Clinton's leadership. Her attorney, Cary Schulman, told The Cable, a blog on the Foreign Policy magazine website, that "Fedenisn has paid a steep price" for her watchdog revelations. "They had law enforcement officers camp out in front of her house, harass her children and attempt to incriminate herself," Schulman told John Hudson.
After the CBS News made inquiries to the State Department about the charges, Schulman says investigators from the State Department's Inspector General promptly arrived at Fedenisn's door. They "talked to both kids and never identified themselves," according to Schulman.
The authorities even attempted to get Fedensin to sign a document that claims she stole the material. Schulman says the purpose of the visit was to get Fedenisn to sign a document admitting that she took State Department materials, such as the memos leaked to CBS. Schulman says it was crucial that she didn't sign the document because her separation agreement with the State Department includes a provision allowing disclosures of misconduct. None of the documents released were classified; they were drafts of a report that in later iterations had all references to the eight investigations removed.
CBS News has a video of the visit, where an unnamed official demands the "recording device" be switched off so he can talk to her. "Ma'am, I can't discuss it with you with the recording device on," said the unnamed man on camera. Just two hours after CBS News made inquiries to the State Department about these charges, investigators from the State Department's Inspector General showed up at Fedensin door CBS News reported.
Kel McClanahan, a D.C. attorney who has represented several agency whistle-blowers, as saying that, "This type of intimidation technique is all too common when an agency wants something from you that it is not entirely confident it can get without your cooperation, and more often than not people who don't know any better fall for it."
The threats don't stop there. Schulman, Fedenisn's attorney, also said that, "officials from the Inspector General's Office told him they'd be having a 'no kidding get together with the DOJ,' implying that they would push criminal charges if his client didn't cooperate."
The Obama Administration would rather go after the whistle-blowers than those who have committed the crimes. Why isn't this surprising?
—————————————————————
Listen to Mr. Kaplan on NTN Radio Fridays at 8pm EDT
Subscribe to Mr. Kaplan's articles at Examiner.com
Read Mr. Kaplan's blog at Conservatively Speaking
Email Mr. Kaplan at ken@conservativelyspeaking.us
Follow Mr. Kaplan's tweets at ConsSpeaking