The vetting of Rick Santorum
on
February 21, 2012
at
5:41 pm
Santorum: Do we know you?
While much of America doesn't know Rick Santorum very well, his staunch conservative views are playing well in the primaries. The bigger question that seems to have faded from the nomination process is the single key issue that dominated early primaries: who is the best candidate to put up against Barack Obama.
Mitt Romney has occupied the top spot in all polls on electability, yet this single quality, that many Republicans believe bests all others, hasn't pushed Romney above the 50 percent mark. Romney's robotic demeanor and doubts about his conservative credentials have held the Governor back. Romney doesn't help himself with comments such as, "I was a severe Conservative."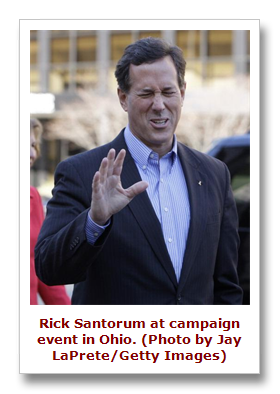 Santorum doesn't suffer from the conservative credentials issue that has dogged Romney since 2008, but perhaps there's more to uncover whether Santorum's rhetoric actually matches his deeds.
In 2004 Santorum supported Arlen Specter over Conservative Pat Toomey, in what many believed was a total betrayal of the Party because, according to Santorum, the Bush White House suggested that Specter would be more "electable" than Toomey.
Santorum might also have caught himself in a bit of a trap with the Specter endorsement, as any argument against Toomey's electability due to being too far right will likely reflect on him if he were to get the GOP nomination.
Santorum as an undisputed social conservative has a far more mixed record on fiscal matters. As a member of Congress Santorum voted for the Bush tax cuts, favored a balanced budget amendment and sought to curb entitlements, playing a key role in enacting welfare reform; all quite palatable in conservative circles. Santorum's support for costly federal programs in education and transportation and using earmarks to fund Pennsylvania projects, gives him very non-conservative role in the national debt. Running for president Santorum finds himself forced to disavow his 2003 support for the unfunded Medicare prescription drug benefit as well as support for the No Child Left Behind Act.
Romney's key strength, the ability to appeal to Independents, might be Santorum's key weakness. Santorum's rise can be directly tied to the fall of Newt Gingrich. Romney's ability to use millions of dollars to erode support for Gingrich didn't inure to the benefit of the Governor but instead to Santorum. Romney's attacks on Gingrich began to shift the focus for an anti-Romney candidate to Santorum.
While both Romney and Gingrich can readily transition from a hard-right primary stance to a more center-right general election campaign, Santorum might find such a move impossible and attempting to do so would likely be viewed as phony. If Santorum cannot appeal to Independents then the GOP has handed the Obama campaign a great advantage.
Is electability Santorum's Achilles Heel?
There is no argument that Santorum's rigid social conservatism is a great strength in GOP primaries, it is at the same time a potential problem against a very adept and well-funded re-election campaign. The Obama 2012 campaign is likely enjoying the ride with Romney struggling with Conservatives, Newt having been damaged by relentless Romney SuperPac attacks and Santorum seemingly too far right to be elected.
None of the four remaining GOP hopefuls has made the sale and with the bulk of the delegates yet to be awarded Romney may be buoyed by being the least objectionable opponent. Gingrich has been quiet as of late and should his "Southern Strategy," work out as he hopes, he may yet get another look. In the interim, Santorum is going to find the heat of the spotlight both beneficial and painful.