Judge says no photo ID requirement in Pennsylvania
on
October 2, 2012
at
2:58 pm
There isn't much you can do these days without a photo ID; but in the Commonwealth of Pennsylvania one of things you will be able to do without proving your identity is vote.
A judge in Pennsylvania has ruled that the state cannot enforce its photo ID law in the coming election, because "It's logistically impossible to make IDs available to everyone who needs one."
Pennsylvania Commonwealth Court Judge Robert Simpson ruled today that while election officials can request an ID on Election Day, voters without one will be able to cast ballots and have them counted. Prior to Simpson's ruling voters would have been allowed to cast their vote without the required ID and the votes would be held as "provisional ballots" and counted only if they returned with photo documentation within six days.
"I expected more photo IDs to have been issued by this time," Simpson, whose original approval of the law was rejected by the Pennsylvania Supreme Court, said in the 16-page ruling. "For this reason, I accept petitioners' argument that in the remaining five weeks before the general election, the gap between the photo IDs issued and the estimated need will not be closed."
Pennsylvania now joins Texas and Wisconsin as states stymied by courts intervening in voter ID laws.
The Pennsylvania law required voters to present a state-issued ID, or an acceptable alternative such as a military ID, to cast a ballot.
"In many respects, it's a victory," David Gersch, an attorney with Arnold & Porter LLP who represented the American Civil Liberties Union, "What he says is you don't have to have an ID to vote in November."
Two months ago the Pennsylvania Department of State began offering new ID cards for those unable to obtain a valid substitute.
Nine states, including Pennsylvania, have passed laws requiring voters to show a state-issued ID before casting a ballot. Seventeen states passed laws requiring voters to present some kind of photo ID.
"While we're happy that voters in Pennsylvania will not be turned away if they do not have an ID, we are concerned that the ruling will allow election workers to ask for ID at the polls and this could cause confusion," Penda D. Hair, co-director for the advocacy group the Advancement Project, said in an e-mailed statement. "This injunction serves as a mere Band-Aid for the law's inherent problems, not an effective remedy."
Jerry Goldfeder, an election law expert with New York-based Stroock & Stroock & Lavan LLP, said in an e-mail "there will undoubtedly be confusion at the polls" because of the photo-ID issue.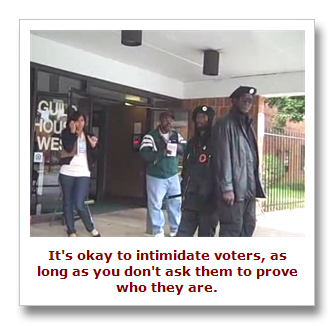 Attorneys for Pennsylvania are reviewing Simpson's ruling, Nils Frederiksen, a spokesman for the Pennsylvania Attorney General, said in a phone interview.
The Pennsylvania Department of State is "looking over all our options," Nick Winkler, a spokesman for the agency, said in a phone interview. Both Frederiksen and Winkler declined to comment on a possible appeal to the state Supreme Court.
Simpson upheld the law in August but the Pennsylvania Supreme Court sent the case back down to him last month, requiring further assessment as to whether all eligible voters would be able to obtain acceptable IDs if the law were upheld. A four-justice majority of the state Supreme Court ruled that Simpson must block enforcement of the law if there was a chance of voter disenfranchisement.
"I am not still convinced in my predictive judgment that there will be no voter disenfranchisement arising out of the Commonwealth's implementation of a voter identification requirement for purposes of the upcoming election," Simpson said. "Under these circumstances, I am obliged to enter a preliminary injunction."
"I reject the underlying assertion that the offending activity is the request to produce photo ID; instead, I conclude that the salient offending conduct is voter disenfranchisement," Simpson wrote. "As a result, I will not restrain election officials from asking for photo ID at the polls."
In Pennsylvania it's apparently okay for thugs to stand outside polling places, as they did in 2008, with batons in hand to dissuade voters from exercising their right to vote, but not acceptable to require proof that you are who you claim. The same persons that will be allowed to vote in Pennsylvania without a photo ID would not be able to enter a Federal building, board an airplane or pick up their state benefit checks without presenting that same ID.
—————————————————————
Subscribe to Mr. Kaplan's articles at Examiner.com
Read Mr. Kaplan's blog at Conservatively Speaking
Email Mr. Kaplan at ken@conservativelyspeaking.us
Join Mr. Kaplan on Facebook at ConservativelySpeaking
Follow Mr. Kaplan's tweets at ConsSpeaking