Five former city officials convicted in Bell, California, corruption case
on
March 20, 2013
at
6:17 pm
Some people believe that those who serve in their state and municipal governments make a sacrifice that is not recognized by their fellow citizens; perhaps there are instances where this is true. However often a little digging shows that recognition doesn't always come in the form of praise; sometimes it comes in stacks of green.
Today, five former elected officials of Bell, California were found guilty of multiple counts of misappropriation of public funds. Where were the funds misappropriated? Right into their wallets.
Five co-defendents including the former Bell Mayor Oscar Hernandez, Teresa Jacobo, George Mirabal, George Cole and Victor Belo were convicted of multiple counts of theft of Bell city funds.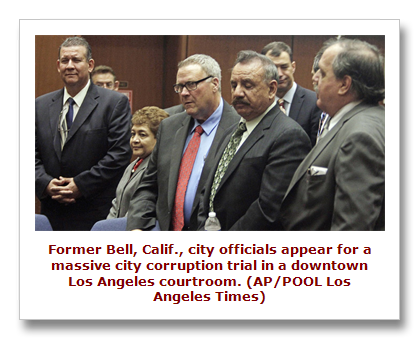 The group of Bell officials were charged with paying themselves salaries of up to $100,000 a year in the city where one in four residents live below the poverty line and only 36,000 persons call home.
The group created a fake government entity, the Bell Solid Waste and Recycling Authority, which the five then appointed each other to in order to take additional money from their constituents.
This fake entity was never created legally, meeting only one time in 2006, and paid each member an additional $13,000 in salary.
Prosecutors brought forth an extensive case involving about 100 counts but many were cast aside by the jury which deadlocked on 10 of the counts.
---
---
How does the tiny city of Bell afford such luxuries as lavish salaries and fake government agencies? You simply illegally raise property taxes, business license fees and other sources of revenue which the state's auditor's office is now demanding be repaid; unfortunately that penalty will be paid by the city's government as the state has no way to take back salaries paid to the five co-defendants. Fines assessed upon the guilty will only cover a fraction of the misappropriated funds.
Apparently this type of theft is a family affair as all of the defendants except Artiga had served as mayor of Bell at some time.
Wednesday's verdict is only the opening salvo in what is expected to be a year-long series of trials following disclosures of massive corruption in Bell.
Bell first came to national notice when it was exposed that the former city manager Robert Rizzo had an annual salary and compensation package worth $1.5 million, making him one of the highest paid administrators in the country. Rizzo's salary alone was more than double what we pay President Obama; of course that's another story altogether.
Rizzo funded his salary and those of his cohorts by stealing $5.5 million from Bell's city treasury. Rizzo and assistant city manager, Angela Spaccia, will face their own reckoning in court later in the year.
—————————————————————
Listen to Mr. Kaplan on NTN Radio Fridays at 3pm EST
Subscribe to Mr. Kaplan's articles at Examiner.com
Read Mr. Kaplan's blog at Conservatively Speaking
Email Mr. Kaplan at ken@conservativelyspeaking.us
Follow Mr. Kaplan's tweets at ConsSpeaking