DCCC Endorses Invasion of Privacy of Republican Candidates
on
July 12, 2012
at
6:32 pm
How much invasion of privacy must candidates endure? Don't we want the best of the best running our government? The direction our politics has been moving in recent years is reaching a crescendo this year as campaigns on both sides of the aisle are using "trackers" to mirror their opponent's campaigns with video cameras looking for slip-ups or phrases they can use in campaign ads.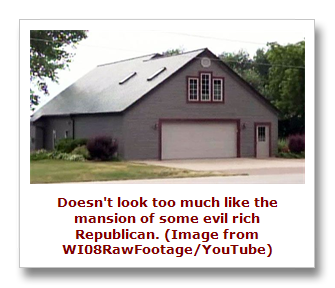 Now a decidedly more troubling tactic of these video trackers working for Democratic Party candidates has come to light and it's downright frightening. Democrats are taking the video tracker practice to a new and constitutionally dubious level of making video recordings of the homes of some Republican incumbents and posting them on YouTube.
Republican incumbents Rep. Jim Renacci of Ohio and Rep. Reid Ribble of Wisconsin were treated recently to video clips of their private homes being posted online on YouTube.
Barely a word has been spoken by the main-stream media about this new level of video privacy invasion. Do you think the same level of indifference would be exhibited had the victims of these videos been Democrats?
While following candidates around to their public appearances and recording video in hopes of catching them in a careless moment might be distasteful to some, you must realize that when a politician speaks in public they have opened themselves up to such scrutiny. Yet the idea that any candidate would allow his campaign staff to place the family of their opponent at risk is, frankly, disgusting.
Shockingly the Democrats are defending the practice, arguing that the videos of GOP members' homes show their upscale abodes and expose the fact that congressional Republicans used this Congressional session to help the wealthy and themselves.
"House Republicans have spent this entire Congress trying to hide that they're protecting benefits for millionaires and perks for themselves instead of protecting the middle class. But we won't let them keep it secret any longer," said Jesse Ferguson, spokesman for the Democratic Congressional Campaign Committee (DCCC.) The DCCC has gone as far as posting some of these videos on their website.
Despite the fact that the National Republican Congressional Committee (NRCC) also uses video trackers, they require they remain at public events and stay clear of family or family residences.
"Our trackers serve as eyes and ears to hold Democrats accountable in public events and public spaces only," Paul Lindsay spokesperson for the NRCC said. "Anything beyond that would be a violation of our policy."
While Congressman Ribble has been successful as a businessman he lives in a fairly modest home in a middle-class neighborhood; clearly the DCCC wasn't making a point about Ribble's wealth. If the DCCC found a middling home, which they did, why did they post a video of the home on YouTube? The question answers itself. The DCCC was trying to throw Ribble off his game by creating an issue with the candidate's family.
"It's amazing they would stoop this low," Renacci said.
Renacci's opponent, Betty Sutton, also an incumbent fighting to be re-elected to newly drawn districts, claims the tracker responsible for the video was not one of their employees. If that's the case then the DCCC is directly answerable for the video. Given the DCCC's stance on the use of videos of incumbent's homes they are clearly culpable.
"I would hope that all political trackers respect the personal privacy of the Renacci family and the families of all candidates so that the differences between the candidates on real issues Ohio voters care about can be presented," Sutton said in a statement. "Voters deserve to hear about my work focused on fighting for jobs, protecting Medicare, and creating opportunities for the middle class in Ohio and Congressman Renacci's record of supporting tax breaks for companies that outsource jobs and voting to end Medicare as we know it, and we will continue to work in a respectful way to expose Renacci's harmful record."
There are more examples of this type of aggressive video tracking of Republicans including Rep. Mike Coffman, of Colorado, and David Valadao, in the California state Assembly. The Coffman video shows Coffman's upscale neighborhood with a woman asking a neighbor about Coffman's whereabouts when he didn't answer the door.
Are we seeing the actions of desperation? Remember that President Obama himself said that families should be off-limits but then allowed his campaign to attack Mitt Romney's wife Ann for using horseback riding for therapy for her Multiple Sclerosis. The media didn't come down hard on the Obama campaign for the criticism of Ann Romney and it's not likely they will step into this latest escalation against Congressional Republicans.
When Obama is critiqued on the right for the politics of personal destruction or, worse yet, turning a blind eye to his minions invading the personal privacy of his opponents, let this be an example of the hollowness of his words.
Whether such tactics are used by the left or the right, it should not and cannot be tolerated. While we may criticize politicians for their questionable judgments or political views, we must turn the mirror on ourselves when dedicated public servants choose not to run to protect their families from this type of intrusion; ask Indiana Gov. Mitch Daniels, who many believed was the strongest candidate for president in 2012, but chose not to run due to family concerns.
—————————————————————
Subscribe to Mr. Kaplan's articles at Examiner.com
Read Mr. Kaplan's blog at Conservatively Speaking
Email Mr. Kaplan at ken@conservativelyspeaking.us
Join Mr. Kaplan on Facebook at ConservativelySpeaking
Follow Mr. Kaplan's tweets at ConsSpeaking