Exposure of IRS behavior another Obama game
on
May 18, 2013
at
7:34 pm
The revelation that the IRS was targeting conservative groups that came out in a May 10 conference of the Amercian Bar Association when IRS official Lois Lerner responded to a question was apparently one more set-up brought to you courtesy of the Obama Administration.
Today Celia Roady, a partner at Philadelphia-based Morgan, Lewis and Bockius, who asked the question to Lois Lerner, issued a statement where she has explained that the question was planted to allow some of the IRS' behavior to "slip out."
"On May 9, I received a call from Lois Lerner, who told me that she wanted to address an issue after her prepared remarks and asked if I would pose a question to her after her remarks. I agreed to do so. We had no discussion thereafter on the topic of the question, nor had we spoken about any of this before I received her call. She did not tell me, and I did not know, how she would answer the question."
Lerner and others at senior levels of the IRS were aware that a bombshell was about to explode when the inspector general released his report of
IRS targeting of conservative-leaning political organizations
applying for tax-exempt status was complete. Leadership at the IRS made the strategic decision to reduce the damage by allowing some details to slip out in advance of the report.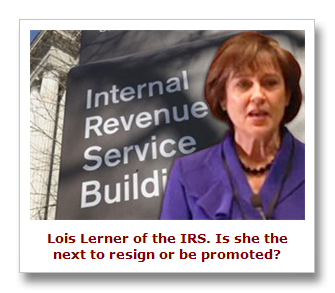 In June 2010, Lerner, who was in charge of overseeing tax-exempt organizations at the IRS, learned of the flagging and ordered the criteria to be changed right away, according to the inspector general. Lerner instituted new guidance that was more generic and stripped of any explicit partisan direction; however it didn't last long.
In January 2012, IRS screening of non-profit organizations was modified again, this time to watch for references to the Constitution or Bill of Rights, and for "political action type organizations involved in limiting-expanding government."
The IRS flagging of conservative organizations ended last May, well into the election campaign preventing organizations that had their applications withheld spending money in support of Romney or other GOP House and Senate candidates.
—————————————————————
Listen to Mr. Kaplan on NTN Radio Fridays at 8pm EDT
Subscribe to Mr. Kaplan's articles at Examiner.com
Read Mr. Kaplan's blog at Conservatively Speaking
Email Mr. Kaplan at ken@conservativelyspeaking.us
Follow Mr. Kaplan's tweets at ConsSpeaking