How is life in prison for Gosnell justice?
on
May 16, 2013
at
2:48 pm
Warning: some of the details in the following story are disturbing and not suitable for all ages. Parental guidance is strongly advised.
The Philadelphia abortion doctor convicted of killing three babies who were born alive in his grimy clinic waived all rights to appeal in exchange for a sentence of life in prison. Many believe that justice would've been better served had Gosnell received the same treatment he dished out.
Dr. Kermit Gosnell was convicted on Monday of first-degree murder in the deaths of the babies who were delivered alive and killed with scissors. It's believed the true number of babies that were killed outside the womb by Gosnell runs into the hundreds.
Former clinic employees testified that Gosnell routinely performed illegal abortions past Pennsylvania's 24-week limit, that he delivered babies who were still moving, whimpering or breathing, and that he and his assistants dispatched the newborns by "snipping" their spines, as he referred to it.
Gosnell received three life sentences without parole on Wednesday.
While prosecutors sought the death penalty many felt that Gosnell's age made it unlikely he would ever be executed before his appeals ran out; nonetheless a death sentence would've sent a strong message to other younger abortion doctor's that such cruelty and disdain for the law would not be tolerated.
Gosnell had said he considered himself a pioneering inner-city doctor who helped desperate women get late-term abortions.
Gosnell's attorney, Jack McMahon said, "The media has been overwhelmingly against him, But I think the jury listened to the evidence … and they found what they found."
If not for a two year-old prescription drug trafficking investigation the horrid details of Gosnell's operation may never have come to light. Authorities raiding Gosnell's clinic for drugs instead found bags and bottles of fetuses, including jars of severed feet, along with bloodstained furniture, dirty medical instruments and cats roaming the premises.
"This has helped more people realize what abortion is really about," said David O'Steen, executive director of the National Right to Life Committee. He said he hopes the case results in more states passing bills that prohibit abortion "once the unborn child can feel pain."
Supporters of legalized abortion said the case offered a preview of what poor, desperate young women could face if abortion is driven underground with more restrictive laws. Yet this is what poor women were faced with despite the very liberal laws on abortion in Pennsylvania. Laws don't create murderers.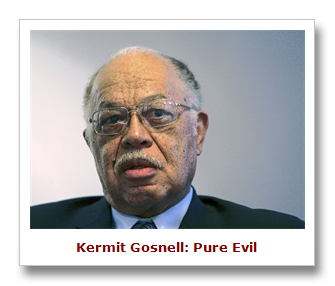 "Kermit Gosnell has been found guilty and will get what he deserves. Now, let's make sure these women are vindicated by delivering what all women deserve: access to the full range of health services including safe, high-quality and legal abortion care," said Ilyse G. Hogue, president of NARAL Pro-Choice America.
Gosnell did not testify, and called no witnesses in his defense. But his attorney called the prosecutors "elitist" and "racist" for pursuing his client, who is black and whose patients were mostly poor minorities.
"I wanted to be an effective, positive force in the minority community," Gosnell told The Philadelphia Daily News in a 2010 interview. "I believe in the long-term I will be vindicated."
Gosnell was also convicted of infanticide, racketeering and more than 200 counts of violating Pennsylvania's abortion laws by performing third-term abortions or failing to counsel women 24 hours in advance.
Prosecution experts said one of the babies was nearly 30 weeks along when the abortion took place, and was so big that Gosnell allegedly joked the baby could "walk to the bus stop." A second baby was said to be alive for about 20 minutes before a clinic worker snipped the neck. A third was born in a toilet and was moving before another clinic employee severed the spinal cord, according to testimony.
A fourth baby let out a whimper before Gosnell cut the neck, prosecutors alleged. Gosnell was acquitted in that baby's death, the only one of the four in which no one testified to seeing the baby killed.
Gosnell's attorney argued that none of the fetuses was born alive and that any movements were posthumous twitching or spasms.
Depending upon the state, the overall average from time of sentencing till execution is 14 years. While Gosnell is 72, what if he lives to be 100? Does he deserve another 28 years and should taxpayers pay for it? Does this logic suggest that younger criminals deserve a more severe sentence? Shouldn't the sentence fit the crime and not bio-chronological considerations?
There's no good argument for why someone sentenced to death should not be able to explore all appeals in seven years and it's well past time we addressed this failure of our legal system.
Sadly Gosnell will live out his life under the protection of a society for which he held no regard. We shall feed him. We shall clothe him. We shall care for him in a manner he could never understand; when we should be discarding him just the way he discarded the lives of newborns in his clinic.
—————————————————————
Listen to Mr. Kaplan on NTN Radio Fridays at 8pm EDT
Subscribe to Mr. Kaplan's articles at Examiner.com
Read Mr. Kaplan's blog at Conservatively Speaking
Email Mr. Kaplan at ken@conservativelyspeaking.us
Follow Mr. Kaplan's tweets at ConsSpeaking