Obama administration tells Virginia to shove it
on
October 21, 2011
at
8:11 pm
It's good to be a friend of Obama. Friends of the president, especially those with deep pockets, get nice gifts, like half-billion dollars green energy scam loans. A new one just came up today: an electric car manufacturer, Fisker Automotive, also received a half-billion dollar loan from the Department of Energy (DOE) to build an upscale electric car which was just revealed will be built in Finland; thank you America for funding political paybacks for the President. Let's all give a big thanks to Mr. Obama for all he's doing for American jobs! A detailed commentary on this latest Obama-DOE scandal will be coming soon.
So, what happens if you're not a "friend of Obama?"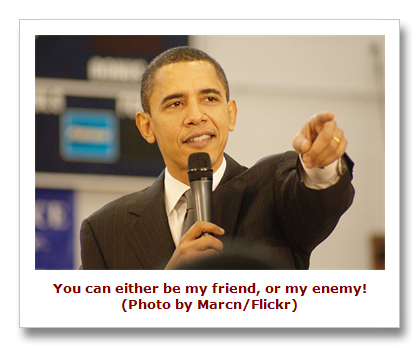 Remember the earthquake in Virginia in August? The earthquake, centered in the small town of Mineral, Virginia, was something the folks in central Virginia will never forget. The effects were felt as far away as Toronto, Canada, damaged the Washington Monument, but the small town of Mineral and the surrounding areas of Louisa County, Virginia saw significant damage.
Adding insult to injury, Louisa County was pounded by Hurricane Irene only weeks after the earthquake. In May, Louisa County was slammed by multiple tornadoes, so 2011 has not been a kind year to The Old Dominion.
The governor declared a state of emergency when the tornadoes ripped through the state in May of this year, causing significant damage, but FEMA, the Federal Emergency Management Agency, rejected claims for damage assistance. Both Democratic Senator Webb and the Representative for Louisa County (who shall be revealed later in this article,) requested an explanation from FEMA as to why damage assistance was denied. The answer was a curt, "the state can handle the damage from the storm."
When the earthquake hit in August, in what might be termed a middling earthquake by San Francisco standards, it caused widespread damage within Louisa County, devastating their high school and downing chimneys from hundreds of homes. More than $15 million in damage to private residences alone, most uncovered by insurance since almost no one in Virginia carries earthquake insurance. Why would you? Can you think of the last significant earthquake on the east coast? Dozens of people are still out of their homes after being condemned for safety reasons.
The governor of the State of Virginia, Bob McDonnell, again declared a state of emergency, and again requested aid from FEMA. Once again FEMA rejected the state's request for assistance for individual property owners. The following is the response from FEMA administrator W. Craig Fugate, an Obama appointee:
"Based on our review of all of the information available, it has been determined that the damage to dwellings from this event was not of such severity and magnitude as to be beyond the capabilities of the commonwealth, affected local governments and voluntary agencies."
Mr. Fugate may well have been given direction from above, as the damage assessments are still going on as of today in Louisa County. Notice that this is the same Mr. Fugate that was claiming FEMA was out of money, just before they discovered they had enough to finish the year. Now FEMA is working on 2012 funds, but for some strange reason a blanket , "No," has been sent to the state.
This week President Obama was in Richmond to sell his jobs plan, A.K.A. a campaign stop, and was invited by Virginia's governor to tour the damaged areas of the state. Mr. Obama declined.
The state, and its residents, are now forced to beg for charitable assistance because the millions of dollars of federal taxes they've sent to Washington each year won't be coming their way.
Why, when money has flowed so readily to other areas of the country, is Virginia getting the short end of the stick? The answer comes down to 2 words: Eric Cantor.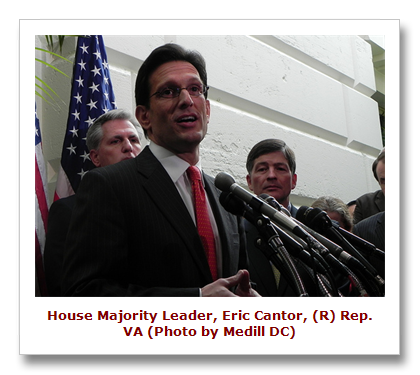 Eric Cantor is the Republican Majority Leader in the U.S. House of Representatives. Mr. Cantor also happens to be the representative for the region most devastated this year. There is no love lost between Mr. Cantor and Mr. Obama. Mr. Obama chose not to tour Mr. Cantor's district because, frankly, he could care less. Just like Mr. Obama's constant political paybacks in the form of billions to his friends, the reverse is true also; Mr. Obama and his administration are punishing Mr. Cantor for opposing the president's agenda.
Millions of Virginians are suffering from multiple natural disasters and the President of the United States is playing political games. If nothing else, this is one more example as to why Barack Obama has no business being in the White House; while he takes a slap at Mr. Cantor, he hurts every taxpayers in Virginia; not only those with property damage, but when the state's budget is mugged by the federal government, everyone in the state pays.
If anyone in the Virginia votes to re-elect Barack Obama they need to have their head examined.