Obama alienates millions of Catholics
on
February 1, 2012
at
3:57 pm
Catholics to Obama: Stay Out of Our Religion
President Obama has opened up a massive can of worms that is likely to affect his appeal to Catholics this coming November.
New rules being applied as part of Obama's health care law will begin forcing Catholic institutions, specifically schools, hospitals, and faith-based charities to provide employees with health insurance that covers contraception, in direct opposition to church teachings.
Bill Donohue, president of the Catholic League told Fox News in an interview, "When you push people of faith and you tell them the government is going to knock down the wall of separation of church and state and overreach like the Obama administration, you've got a war on your hands."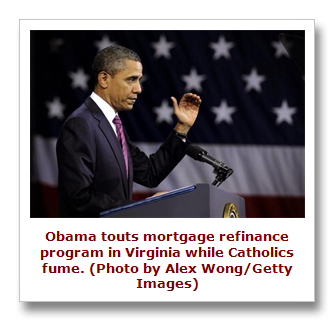 New York Cardinal-designate Timothy Dolan, as well as a number of other archbishops across the country, instructed priests to read letters to their congregations slamming the Obama administration policy in Sunday Mass.
In a web video Dolan said, "Never before has the government forced individuals and organizations to go out into the marketplace and buy a product that violates their conscience. This shouldn't happen in a land where free exercise of religion ranks first in the Bill of Rights. How about letting our elected leaders know that we want religious liberty and rights of consciences restored and the administration's mandate rescinded? We can't afford to strike out on this one."
Jay Carney, White House Press Secretary, told the media on Tuesday that the administration believes it struck an appropriate balance in crafting the policy.
"The administration believes that this proposal strikes the appropriate balance between respecting religious beliefs and increasing access to important preventive services," said Carney. "We will continue to work closely with religious groups during this transitional period to discuss their concerns."
The policy is not sitting well, even with many Democrats. The coup de gras was when far left columnist E.J. Dionne charged that the president "utterly botched" the issue and "threw his progressive Catholic allies under the bus."
Catholic bishops have stated that contraceptive coverage would include the so-called "morning after pill," which breaches the church's well known stance on abortion.
While the White House claims that the protections of the "conscience clause" remain, Catholic leaders have stated that Catholic hospitals can only invoke the "conscience clause" if they turn away patients of other faiths, something no Catholic hospital would do.
Retired Cardinal Theodore McCarrick told Fox News that, "That means we can't say what we've been saying for 200 years, 'Are you hungry?' We have to say, 'Are you Catholic?' We don't do that."
Senator Marco Rubio, R-Fla., has introduced legislation to block the new rules.
Bill Donohue is getting support from other religious leaders as well; Protestants, Mormons, Jews, and others have voiced support and stated they wish to join with the Catholic League to reverse these rules.
Catholics Could Flee in November
Obama overwhelmingly took the Catholic vote in 2008, besting John McCain by more than nine percent, and this move may place him at odds with more than 35 million voters come the fall. Will this move be the breaking-point for Catholics sitting on the fence? If nothing changes between now and November the potential of giving away millions of votes could be decisive.
One would think, given current economic straights and Mr. Obama's questionable job performance, he would not allow any rule to take affect that could alienate a substantial portion of the electorate. How and if he wiggles out of this predicament should be entertaining to watch.