Student suspended from school for act of heroism
on
March 5, 2013
at
2:01 pm
It must be very confusing for kids these days. They get suspended for making a gun gesture with their hands. They get suspended for talking about a Hello Kitty Bubble Gun. Now a 16-year-old Florida high school student has been suspended for three days for taking a loaded gun away from a teen threatening to shoot.
The student, who attends Cypress Lake High School in Fort Myers, tackled the 15-year-old suspect on a school bus after he allegedly pointed the weapon at another student.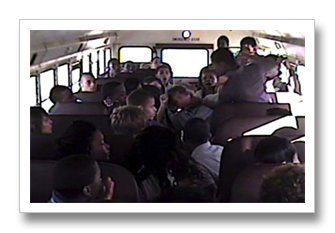 "I think he was really going to shoot him right then and there," said the student suspended for his heroic actions. Two others that joined in after the student took action were also suspended.
As a reward for stepping in when others might have simply looked the other way or fled he was suspended for his role in an "incident" where a weapon was present and given an "emergency suspension."
The boy's mother said her son has refused to cooperate with the investigation because he is scared; hard to blame him given the fact that a loaded gun made its way onto a school bus.
The suspected gunman was arrested and charged with possession of a firearm on school property and assault with a deadly weapon without intent to kill. The "without intent to kill" charge is rather puzzling since it's apparent that the teen threatened to use the weapon. Was the teen with the handgun only intending to wound?
The Lee County Sheriff's Office continues to investigate. Bringing a gun onto a school bus or school grounds is a criminal offense and should be a matter for law enforcement and yet the message the school has sent is that no good deed goes unpunished.
School officials have refused to comment on why the boy was suspended.
Do these reactionary politically correct bureaucrats realize how idiotic they appear when they feel compelled to act without taxing their limited cranial resources?
—————————————————————
Listen to Mr. Kaplan on NTN Radio Fridays at 3pm EST
Subscribe to Mr. Kaplan's articles at Examiner.com
Read Mr. Kaplan's blog at Conservatively Speaking
Email Mr. Kaplan at ken@conservativelyspeaking.us
Follow Mr. Kaplan's tweets at ConsSpeaking